I had intended to write an in-depth review of Tom's Pizza last Saturday. In my pocket, I carried my trusty digital camera, my beer notebook (devoted to notes on tastings and reviews) and a passion for documenting Iowa Hawkeye football, being an alum of University of Iowa Journalism program.
Apparently, it has been a long time since I was a "real" journalist, as I quickly abandoned my ambition and observer status when I walked in the front door. Greeting me were more televisions than I could count, each flat , widescreen displaying a different football game. 20 taps lined the bar, containing a trusty selection of Oregon microbrews. And when I saw another table order pizza … it was all over.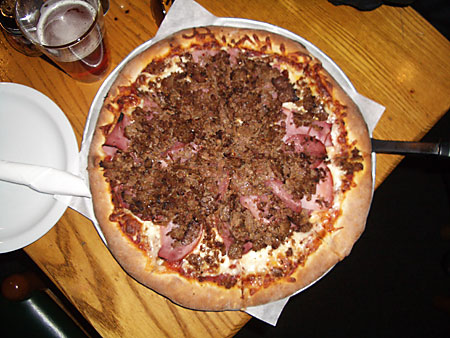 Andrew and I split the Tom's Triple Play, 14 inches of delicious, buttery and chewy crust topped with at least 30 pounds of meat. Maybe not 30, but as you can see from the photo, the cheese was barely visible. What was shocking was that this was not a greasy pizza. Most meat-covered pizza oozes puddles of grease, but not this one. Now, I am not saying that the American Heart Association is going to endorse Tom's, but it was extremely edible. I ate half the pizza and didn't feel gross at all. Of course, I was washing it down with:
1 pitcher Tom's IPA (brewed by Cascade Lakes Brewing), too lightly-hopped and thin for my taste, but not bad if there weren't alternatives like:
2 pitchers Bridgeport IPA, followed by
1 pitcher Widmer Hefeweizen. washed down with
1 pitcher Drop Top Amber and finally, a return to
1 pitcher Bridgeport IPA
Yes, that is a lot of beer. And no, there weren't 10 people drinking. There were 3. But this was the Iowa-Ohio State game, and if you've ever been to a Big Ten tailgate, you will know that this is small beer.
A note on the pitchers: Tom's Pizza may be one of the last places in town you can get full-sized pitchers. Too many places have pitchers that hold exactly 3 pints – not Tom's. There are at least 4 pints per pitcher here, making for a pretty good value.
Dan sampled the Mozzarella sticks later on, but they were gone by the time it occurred to me to ask to try one. As wife Emily said, "When it comes to Dan and Mozzarella sticks, watch your fingers or you might lose one."
With a pizza, the app, and 6 pitchers, we were pretty scared when the bill came, but were happily surprised when the total came to less than $80 … not bad for 5 hours of football spectatorship.
Probably the best thing about Tom's are the people you see there. Never having been there before, I was a bit wary of the unfamiliar location. However, I encountered 5 University of Iowa alumni I knew previously, but had not known would be there. Plus, absolutely everyone else was friendly. I was wearing an Iowa sweatshirt, and no less than 4 people gave me high-fives and "Go Hawks" calls on the way in. The wait staff was extremely attentive and friendly.
Tom's Pizza: My New Favorite Sports Bar.
2630 N Lombard St
Portland, OR 97217