Thanks to the good folks over at one of my favorite college football blogs The Wizard of Odds, I present to you a great picture of former presidential candidate Sen. John Kerry hanging out (and holding hands…) with the young ladies at last weekend's Iowa/Iowa St. game and being offered his turn at the ol beer bong.
Surely such tailgating bravado should merit some good karma for the Hawkeyes this year.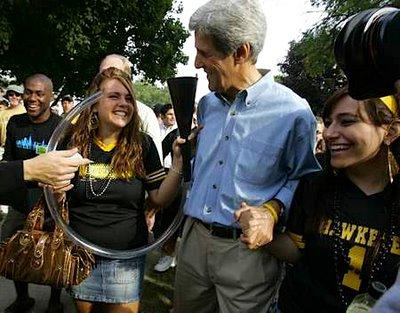 I'm going to go on record right here and announce the first candidate, regardless of party affiliation, I see do a beer bong, I am voting for him or her. You hear me Sen. Clinton?! I'm talking to you Sen. McCain!!