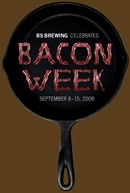 I have several vegan/vegetarian friends. No, really. I do.
Without fail, the thing they tell me they miss the most about the meat-eating lifestyle is one thing: bacon. When people come back to the fold (and by fold, I mean love handles), they invariably head straight for the porcine party, with bacon first on the list. But, these friends of mine, they're not trendy veg-o-philes, following the latest trends. They're lifers, and I care for them. I know they're missing something wonderful, but I want to know they're satisfied beyond the self-righteous, sleeping peacefully at night level. So I decided to walk a mile in their shoes, and give fake bacon a try. I know. I care too much.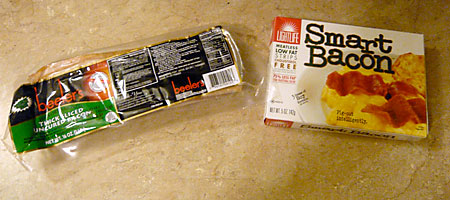 I went to Whole Foods at lunch and purchased Smart Bacon , which seems to be a widely available bacon substitute (oxymoron), and a pound of Beeler's Hickory Smoked, Uncured, Thick-Sliced Bacon.
Here's the rundown.
Bacon smells like bacon.
Fake bacon smells like dog treats (specifically "Beggin' Strips")
Bacon separates from other strips easily.
Fake bacon crumbles into pieces and must be carefully pried apart.

Bacon wrinkles as it cooks.
Fake bacon remains flat.
Bacon looks like bacon.
Fake bacon looks like pepperoni.
Bacon is made of pigs.
Fake bacon is made of water, soy protein isolate, wheat gluten, soybean oil, textured soy protein concentrate, textured wheat gluten, and less than 2% of natural smoke flavor (uhh, what?), natural flavor (of …?), grill flavor (I hope it was a meatless grill, but then it would be flavorless …), carrageenan, evaporated cane juice, paprika oleoresin (also used in the thriving Hungarian canoe industry), potassium chloride, sesame oil, spice extractives, fermented rice flour (sake!) tapioca dextrin, citric acid and salt. Wow.
Bacon has 9 grams of fat per serving.
Fake bacon has 2 grams of fat per serving.
Bacon cooks in 10 minutes.
Fake bacon cooks in 3 – 4 minutes.
Bacon tastes like bacon.
Fake bacon tastes like a dry, salty sponge.
Conclusion: go with real bacon. The Smart Bacon was, frankly, not. A complete waste of $4, as I couldn't finish more than a tiny bite – it had a weirdly over-processed texture and a single dimension of flavor: salt. But the dog was beggin' for it.
I went with the real bacon and it was magical.