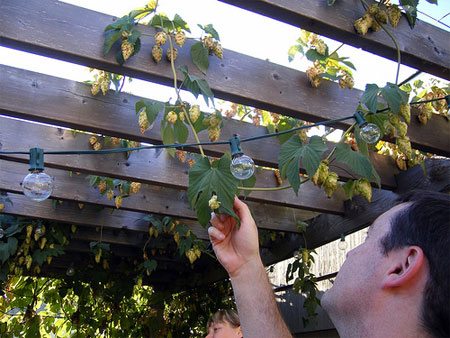 As the days get shorter and the hop cones start to weigh down your vines, it's time to plan your fresh hop homebrew. A few tips from the woefully ill-informed and hungover.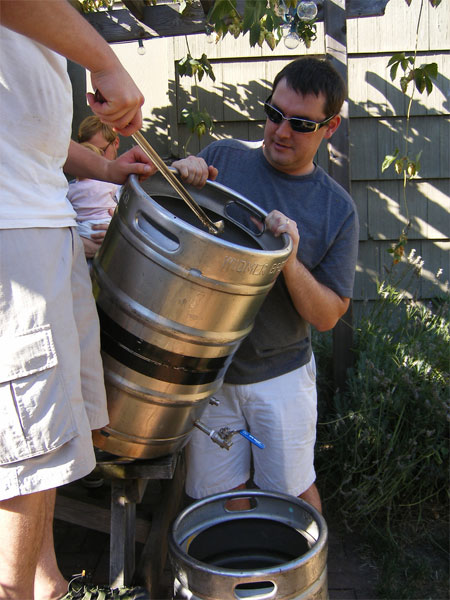 Just to set the scene: We met over at Dave's, since he has the most mature vines. We also made the second voyage of the converted-keg, all-grain homebrew set up. The false-bottomed all-grain was our brilliant downfall.
Tip 1: Bag the fresh hops. Unless you have some brilliant method for avoiding the stuck run-off, (Yes, we had a false bottom. Yes, we tried stirring.) the fresh cones come apart and clog your drain. We ended up pouring it out of the top of the keg into the carboy, which was pretty lame, messy, and probably unsanitary. If you DO know how to let the cones swim free in the false-bottom keg conversion without causing a clog, please leave us a comment below. Seriously.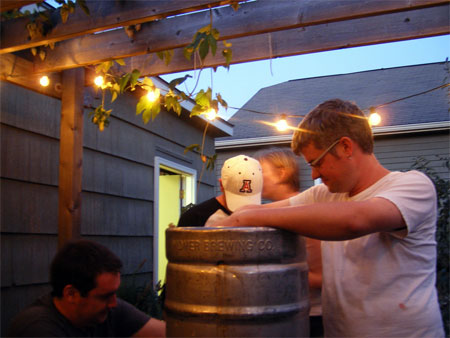 Tip 2: Pace your drinking anytime you're brewing all-grain. Extract brewing takes what? Two hours? With all-grain, you could be out there six hours or so. Mix in some highly potent homebrew and archive beers, and when those hops get stuck, you'll be in no frame of mind to figure a smart solution.
Tip 3: Don't plan anything for the next morning. I think this tip comes from Dave.
Tip 4: Don't talk politics, especially at the end of the night.
Tip 5: Don't be afraid of the canned bacon. As the fresh-hop homebrew festival fell at the end of Bacon Week, we sampled:
BBQ bacon
BLTs
Bacon burgers
Tip 6: Do be very, very afraid of the intestinal aftermath of combining lots of homebrew, BBQ bacon, BLTs, bacon burgers, bacon brittle, bacon cookies, and canned bacon. Be prepared to sleep on the couch.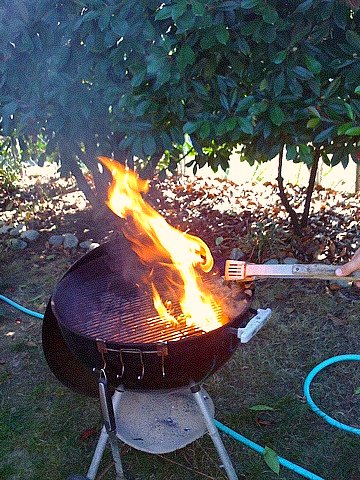 Tip 7: Do not use homebrew to put out a BBQ bacon grease fire.
Tip 8: Use the mostly green hops. The scent was not as hoppy as I would've expected considering we picked and dropped fresh hops into the boil for nearly the full hour. What type of hops were they? If you know how to identify hops, please call us. Operators are standing by.
In all, another great day in Dave's backyard. I believe the girls from FU Cheese even made a cheese press in Dave's woodshop, but that tale will have to wait for another day.