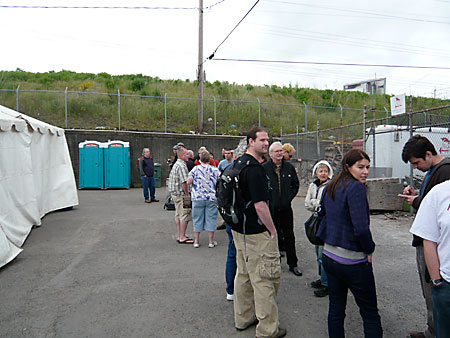 The dirty white tent ruffled and snapped in the hot wind. Inside, a mystery, a holy revival waiting to be borne here upon the wild plains. All of us cowboys lined up in silence, clutching our hats and wearing dirty boots, squinting against the flying grit. All we wanted was to come inside, where for once in this cold life, perhaps a strange preacher could bathe us in the glow of the everlasting, for which we had searched so long.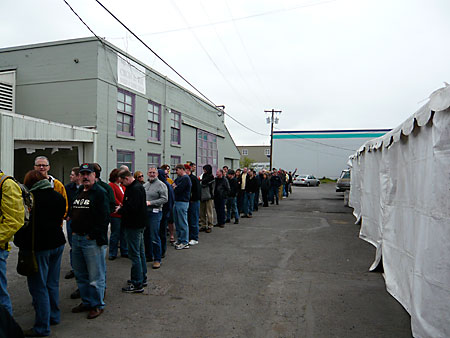 Except for some minor details, this was roughly how I interpreted the hushed, electric wait before the tent swung open for Fredfest 2008. I felt like the only virgin in the bunch, and was almost certainly the only one not wearing a beer-themed shirt. The line stretched 150 long. Dave had stopped speaking in the moments before the opening, but his eyes were glinting in a dangerous way. The tent swung open to a cheer heard all the way across Holgate, and in we filed. They put wristbands on us before we entered Willy Wonka's factory, but at that point I don't think any of us would have cared if it was a damned cattle-brand. Beer and beer nerds were about to come together inside Hair of the Dog brewery in a perfect storm of oak aging, turkey legs, and Honey Buckets, ideally in that order.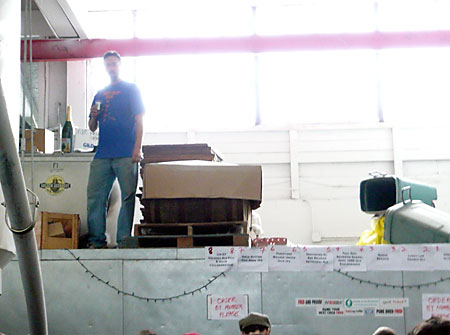 As if a $50 ticket didn't buy enough already (endless beer, food, good company, and all guilt-free…it's for charity!), it also gets you entered in a raffle. I understand there was some kind of super Traeger grill as a grand prize, which everyone was talking about as if it were the technological equivalent of owning your own Stargate. Dave ended up winning some delicious aged brew, because Dave always wins something.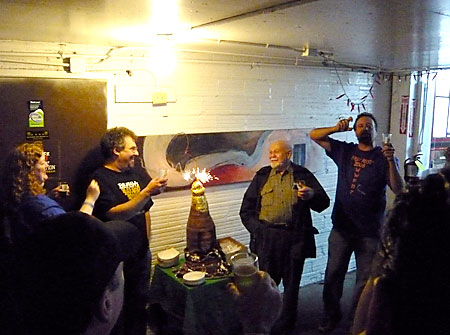 The man of the hour himself, the great Fred Eckhardt raises a toast in front of his brew-shaped cake. The cake was an impressive achievement, although it looked like it had suffered some major structural damage in an earthquake. With nothing to support it but good karma, apparently, the mighty dessert stood for the entire celebration.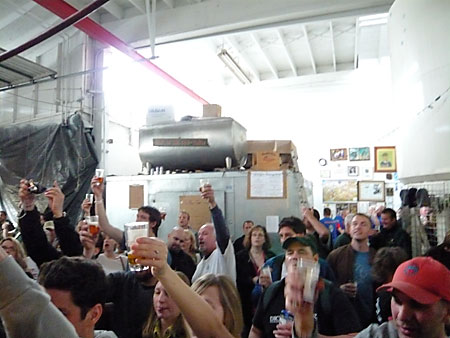 These kinds of scenes happened a few times (this one was a happy b-day toast to Fred), and with only 200 folks in the whole joint, it felt more like a big friendly barbeque than anything. A barbeque, that is, drenched in the best beer you can imagine, and crawling with paunchy, middle-aged dudes with no responsibilities for a day. Is this PERFECT or what?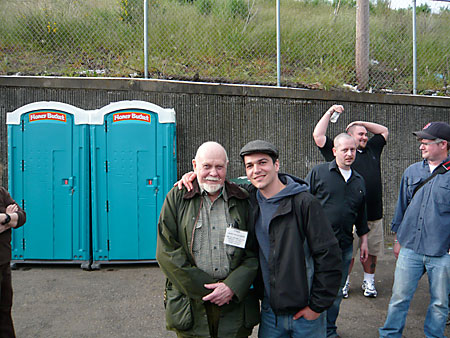 Hey, here's a picture of our friend, uh, our friend…nope, it's just Some Guy standing with Fred. Some Guy was real insistent about getting multiple pictures taken with Fred, no matter that it was with Dave's camera. I tried to explain to Some Guy that if he got his picture taken in that hat he was wearing, then everyone would know he owned a hat like that, but he wouldn't listen. I assume he had a lot on his mind, what with the Renaissance Fair coming up.
Hey, here's the picture we actually wanted to take, minus the small problem sitting directly in front of Fred, which I'm sure can be photoshopped out. It's the BS Brewing crew, minus Andrew, and including Fred, Lisa Morrison, our new friend Jon Shervey, and the gent in back (whose name escapes me), who is an owner of the marvelous Belmont Station.
There are many other stories from our too-brief journey into the magical world of the Hair of the Dog brewery. Jon Shervey getting an aged, spectacular HOTD Fred upon entering (as we all did), and commenting simply, "It's a respect thing." A perfect moment sharing a smoke outside with the great Don Younger (or Beer Jesus, if you prefer), a drunk 45-year-old taking a faceplant while giving his also-grown buddy a horsey ride, and this priceless exchange between, yes, Don Younger and a visibly tipsy Fred Eckhardt:
Fred: You guys are pouring some pretty substantial beers here. I hope I remember this in the morning.
Don: (just laughs and smiles)
I mean, that pretty much sums it up. Happy birthday, Fred.