This year's annual Independence Day backyard blind beer tasting challenged palates and flaunted the vaunted German beer purity law of 1516. If you're not familiar with the law, it basically limited 16th Century German brewers to three ingredients: malted barly, hops and water. Turns out they hadn't figured out what yeast was at that point, so it wasn't listed.
Here's the relevant text, translated to English:
… We wish to emphasize that in future in all cities, markets and in the country, the only ingredients used for the brewing of beer must be Barley, Hops and Water. Whosoever knowingly disregards or transgresses upon this ordinance, shall be punished by the Court authorities' confiscating such barrels of beer, without fail.
I'm guessing the Court authorities never, ever paid for beer. "Yeah, I'm pretty sure I taste some cassis in this doppelbock. I'm going to have to confiscate it. For my belly."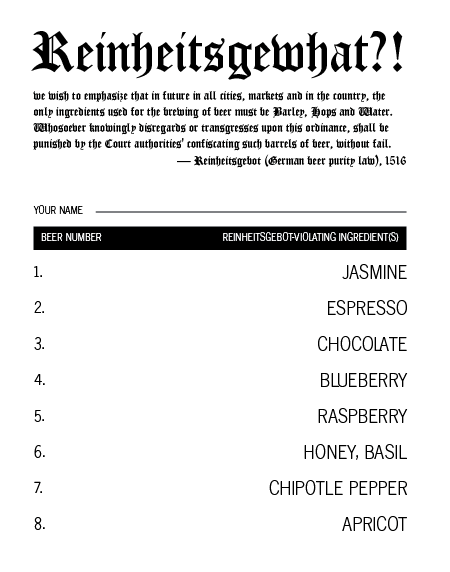 I selected beers that all included something funky. Each beer was poured behind closed doors; tasters (aka our party guests) were asked to identify the Reinheitsgebot-violating ingredient from a list. I'll be honest – I thought this would be the easiest challenge to date. But identifying some of the flavors proved difficult, especially in the berry department. Here's what I poured:
Jasmine: Avatar Jasmine IPA, Elysian Brewing
Espresso: Overcast Espresso Stout, Oakshire Brewing
Chocolate: Imperial Chokolat, Southern Tier Brewing
Blueberry: Bluebeery Ale, Marin Brewing
Raspberry: Wild Raspberry Ale, Great Divide Brewing
Honey, Basil: Organic Honey Basil, Bison Brewing
Chipotle Pepper: Chipotle Ale, Rogue Brewing
Apricot: Aprihop: Dogfish Head Brewery
Of the bunch, I'd say the Aprihop (beer review at 999 Beers), Jasmine IPA and Overcast are in the category of "beers I'd definitely drink again."
The Chokolat was widely imagined as "delicious over ice cream," and I think that would be a good combo, if infrequent.
The Bluebeery tasted a little too artificial for my liking, but the Wild Raspberry had the real flavor of raspberries in every sip (I compared it to fresh-from-the-bush raspberries between pouring sessions!).
If you'd like to replicate the tasting menu, here's the ReinheitsgeWhat?! tasting ballot, designed by yours truly.
Previous tastings: