It's great to have a beer blog and an excuse to drink beer, but I guess we should actually add some content more than once a month.
A couple of weeks ago, the fine folks at Widmer invited us over for dinner to celebrate the release of W'10 Pitch Black IPA. Due to the enormous success of Brrr, W'10 was already in stores, but that didn't deter our enthusiasm for this Cascadian Dark Ale.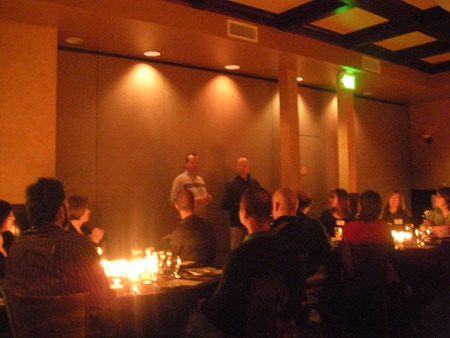 I'll leave a more detailed review of the beer to Dave at 999 Beers but I really like W'10, easily my favorite in the series, challenged only by W'07 that eventually became Drifter.  I think it's a safe bet we're going to see a lot more Cascadian Dark Ales this year and that style will be the choice of backyard BBQs and camping this summer. It's a great blend of roasted malt flavor and hops without being too heavy.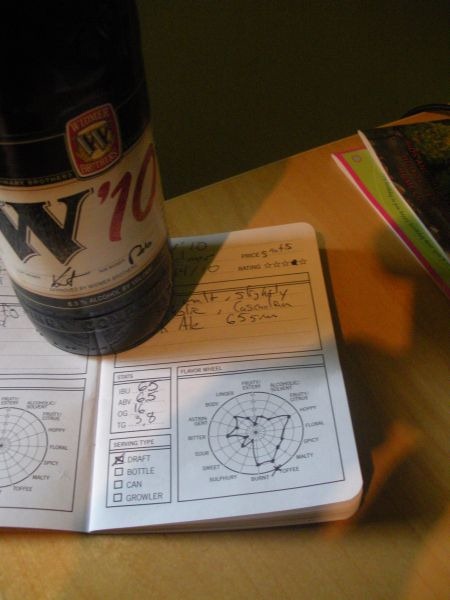 I was joined for dinner by brewer John Eaton who generally works the overnight shift at Widmer. I was a great opportunity to discuss the entire W series at Widmer, the collaborative creative process and the success of 07 and 06 turning into Drifter and Brrr in the company's line. In general, the brewers get together and discuss a few different styles and then they work together to hash it out and determine what that year's W beer will be. It's a great opportunity for the brewers to flex their creativity outside of the company's standard brews.
It also seemed some at Widmer were a little miffed/disappointed at the lack of success of W'09, the Belgian Golden Ale and to a lesser extent 08's Crimson Wheat. In thinking about the Belgian Golden, it reminded me of Bridgeport's Supris and a similar tepid response.
It makes me think that major production brewers such as Bridgeport and Widmer become well known for certain styles and the consumer just doesn't think of them as an outlet for something so different. I'm certain that in addition to letting brewers create new styles, the W series also helps Widmer stretch the consumer's mind and while a certain year may not sell as expected, it can help open the door for future, more commercially successful new styles.
You can learn more about W'10 and the W series by going here and can find Widmer Brothers on Twitter and Facebook.