We've been to a lot of beer festivals. A LOT of beer festivals. Mostly in Oregon, but earlier this year we made our way down to San Francisco Beer Week, and took on the Great American Beer Festival in Denver this fall (photo below).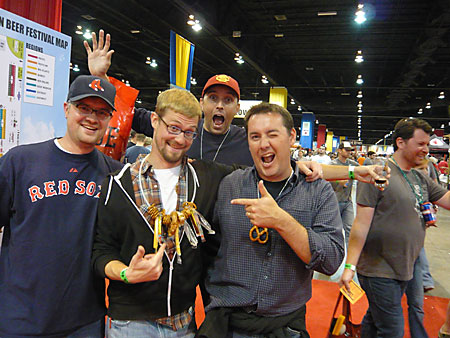 I'd like to say that the recap blog posts are forthcoming, but as every festival attendee can attest, the details tend to get hazy as the samples take hold, and SMS/Twitter reconstructions can only go so far toward recalling the flavor profiles and production details on some of the more obscure or original microbrews tasted.
Our first product, 33 Beers, is an attempt to solve this "memory problem." It's a beer journal we designed for rapidly taking down the important details of a beer. A unique "flavor wheel" is included on each of the 33 pages of note-taking area, and it provides a quick, visual way to describe a beer's flavor (and recall it later). Simple check-boxes for serving method (draft, can, bottle, etc.) and other key information further speed up the process. The idea is to take notes for later recall, but do so rapidly so you can, you know … enjoy the actual beer?
Best of all, it's highly portable, unlike the 11×17-sized, color-coded Excel spreadsheets we used to tote around to beer festivals. It easily fits in the front or back pocket of a pair of jeans, and is thinner than most mobile phones. It's printed in the Northwest on 100% Washington-recycled paper using US-grown soy ink, so it should satisfy even the hippiest of hippie beer drinkers.
We've set up a web site to sell the book at 33beers.com, and it's available in a few stores in the Portland, Oregon area (Saraveza, Belmont Station and Bailey's Taproom as of this writing). It's been largely a labor of love, and we'd love it if you'd help us spread the word to the other beer geeks in your life. It's pretty inexpensive, too; it retails at $4 each or a three-pack is $10. Wouldn't these look great under your tree?