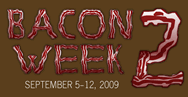 Sometimes you want a baguette, and sometimes you want sliced bread. But in the bread family, at least, most American supermarkets give you that choice: sliced or unsliced. Not so with bacon. "You'll buy sliced bacon, and you'll like it, bub. Because we know how thick you want it."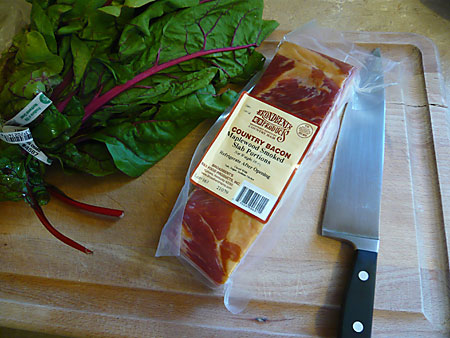 I beg to differ, and thanks to the fine folks at Broadbent Hams, you don't have to take it anymore, either. Bacn.com offers many of their fine bacons in slab format, so you can cut it how you want it. I like my bacon sliced thick for breakfast slices, but for cooking, it's especially nice to have bacon cut to order. The French call thick chunks of bacon for cooking "lardons" and they're a nice addition to any cook's cupboard. I say cupboard, because Broadbent's bacon is shelf-stable, at least until you open the package. Sliced into 1/4″ cubes, the outside gets nice and crispy, while the interior stays somewhat soft, providing two nice textures in one morsel.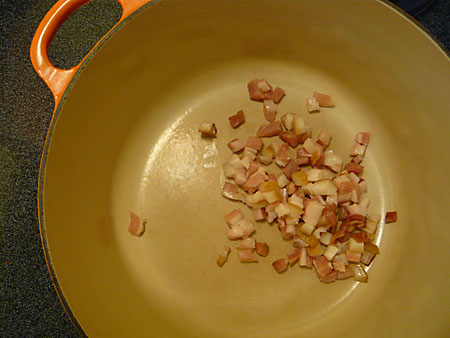 As a confirmed meatatarian, I'm usually not a big fan of vegetables, but with the addition of bacon, I become exponentially more interested. Wife Sarah's perfected the art of cooking greens (swiss chard in this example). Here's her recipe:
Cook 1/4 pound of cubed bacon on medium-low heat in a dutch oven (we LOVE our Le Creuset), cooking until it's brown on the outside. Remove with a slotted spoon and set aside.
Pour off all but enough bacon grease to coat the bottom of the pan.
Saute the greens in the bacon grease for a few minutes, until the leaves wilt, about 5 minutes.
Add about 3 tablespoons of apple cider vinegar (to taste) and stir.
Add in a teaspoon or two of brown sugar (to taste) and stir to combine.
Put the bacon bits back in and stir some more. If you like really crispy bacon, add it after simmering the greens on their own for awhile.
Simmer, covered, until stems soften. About 20-25 minutes of simmering results in a texture we generally like, but some people prefer a softer stem still.
Season with salt and pepper to taste.

Greens go especially well with barbecue ribs, pulled pork or fried chicken (shown above), but they're a nice complement to almost any southern-inspired and/or porky meal. Warm, homemade biscuits optional, but highly recommended.