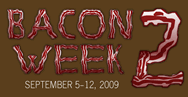 I love brewing. And I love eating. But it's a certain kind of food that goes well with both activities, usually something from the Dorito's segment of the food pyramid. And while I love orange hands and flavors inspired by the famous Rancho Coolo, I often want something more substantial. Something entree-like, but which doesn't require silverware. World, I give you … mini BLTs. You're welcome.
Cook some bacon. In this case, I'm using a slab of thick-sliced, uncured Niman Ranch center cut, Applewood smoked bacon. It's salty, but not too salty, and easy to cook up to the perfect BLT state: a few minutes past "wiggly," but not quite rigid. This particular bacon has a deep, smoky flavor to it, which goes well with the other components of the trio without being overpowering.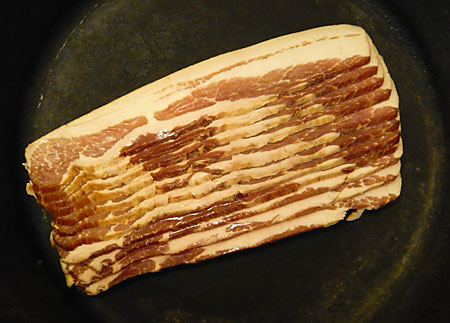 I also tried a few sandwiches with the no-cook convenience of Archie McPhee's strawberry-flavored gummi bacon, but it was a bit too chewy for my taste. The sweetness of the strawberry was quite nice, though; a bit like a PLT.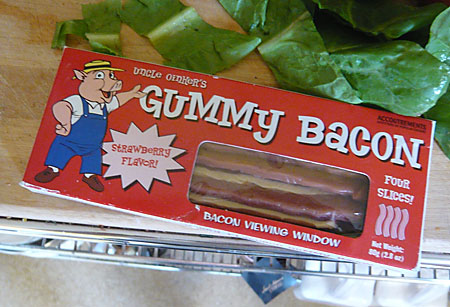 While you're waiting for Mister Pig to render, it's a good time to do your other prep. A mini BLT needs small bread. I thought about cutting up a larger sliced loaf, but feared the loss of crust on all four sides could lead to structural problems once the mayonnaise got to softening the bread. Instead, I reached for a baguette, choosing to slice it on the bias (French for "diagonal") to make the slices a bit longer, since I intended to leave the bacon untrimmed.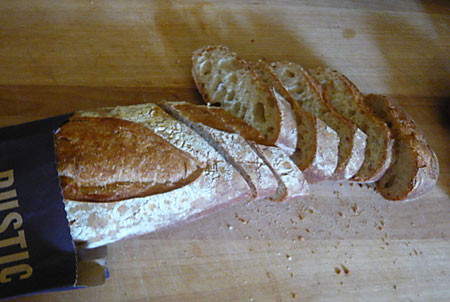 Slicing tomatoes is part of any BLT assembly process, but slicing lettuce isn't. The combination of larger than average lettuce leaves and smaller than usual sandwiches requires it in this case. I sliced it to be just under the width of the mini bread slices.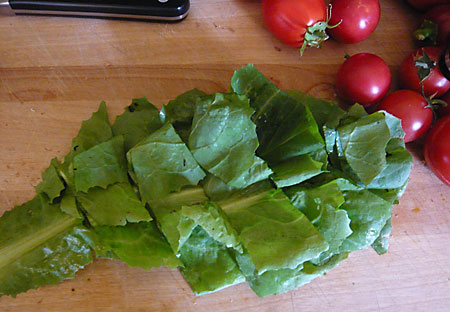 After prep's done, and the bacon complete, you're ready to assemble. Put mayonnaise on both slices of bread; it's the glue that will hold the sandwiches together and enable one-handed eating. Bacon is next, followed by lettuce and tomato. Lettuce provides a moisture barrier between the juicy tomato and crisp bacon, and texture diversity is very important in a properly-made sandwich.
In just a few minutes, you've got a bevvy of BLTs ready for the brewers. A toothpick helps keep everything in place while the mayo sets up. But the main question is, "can this BLT be eaten single-handed?" See you in Sweden, bitches! I'm gettin' a Nobel!