In 2003, my wife and I bought our first house. We moved in on the weekend of July 4th, and as thank you to all the friends who pitched in on moving day, we held a barbecue on July 4th. Each year since, we've carried on this tradition. This year marked our sixth annual party, serving my "4-Day Ribs" and specialty "Red, White and Blue" burgers (the blue is blue cheese crumbles mixed into the ground beef).
In the last several years, I've added a beer tasting component to the party. It's a good chance to clear some space in the cellar, and a fun way to expose my friends to some "out there" beers.
This year, the theme was "Us and Them." In two flights, I asked participants to determine whether the beer they were tasting was an American or "global" example. I worried that the theme might be too easy, as American examples of most styles tend to be on the "11" portion of the flavor volume dial, so I threw a few sneaky ones in.
The first flight was IPA, and I tried to find a few non-American versions with amped-up hops, and a few American IPAs with toned-down hops. Here's the lineup I threw out:
Hair of the Dog Blu Dot Imperial IPA (2009), Portland, OR
Meantime IPA, London, England
Boulevard Double Wide IPA, Kansas City, MO
Full Sail Sunspot IPA (2006, so the hops had mellowed WAY out), Hood River, OR
St. Peter's IPA, Suffolk, England
From a field of about 20 entrants we had three winners, few of them beer geeks. Prizes were a bottle of the 2009 Hair of the Dog, a box of Bengal Potatos, and a Sam Adams "special beer glass" (that last one I was just trying to get rid of).
I was most proud of the sour beer tasting held later in the afternoon. I was a little worried the beers might not go over well – few non-beer geeks have sampled the genre, and the taste is a little … unfamiliar, to say the least. I am proud to say that I converted at least one wine drinker!
The lineup here was a little harder for consumers – as with the IPAs, the Belgian examples tend to be a little more refined and complex-tasting than their American cousins. But, the road is less traveled, and only the beer nerds in the group had tasted some of the examples more than once or twice. My lineup:
La Duchesse de Bourgogne, Vichte, Belgium
Russian River Consecration, Santa Rosa, CA
Cascade Blackberry Ale, Portland, OR
New Belgium Dark Kriek, Fort Collins, CO
Rodenbach Grand Cru, Roeselare, Belgium
The Duchesse and the Consecration were the standouts in my opinion, although the Grand Cru was very "sophisticated" tasting, maybe even too subtle for this red-blooded American. The oak of the Consecration was really apparent when compared to the others, but it's not something I really noticed when I drank it on its own. And the Duchesse is beautiful, always.
The prizes here included a New Belgium La Folie (a personal favorite), a New Belgium goblet, and a three-pack of sour candy I picked up at Freddies. As with most things in life, the lesson here is not to take yourself, or your beer, too seriously, as Dan Painter so boldly illustrated: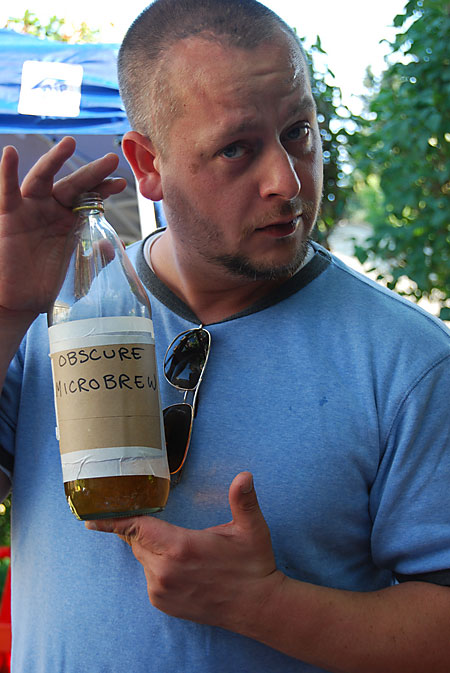 Many thanks to Kari Hay for the photos. I was too busy pouring/drinking beer to document the day's festivities!
Past Tasting Themes: