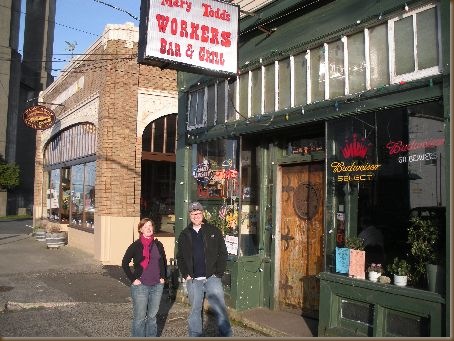 The evening was closer to "It's time to go" than "we just got here" when Eryn leaned into to me and said "I figured it out…. The goal of this place is to keep you from leaving." Granted, that's probably true for any bar that wants to turn a profit, but what sets Mary Todd's Workers Bar & Grill in Astoria apart is, they do a damn good job of doing it.
Situated under the bridge on Marine Drive, the decor is classic dive bar, pictures of various vintages celebrating the hard work and people that made Astoria, as well as plenty of photos of the regulars having a great time.
So what exactly lured us here? You didn't have to talk to too many people in town to find out about the giant serving of prime rib available for a very reasonable price (I think it was $15). Dave ordered an equally large chicken fried steak that checked in around $10 (cardiologist not included).
Since this is a beer-related blog, I suppose I should mention the beer selection… (moving on)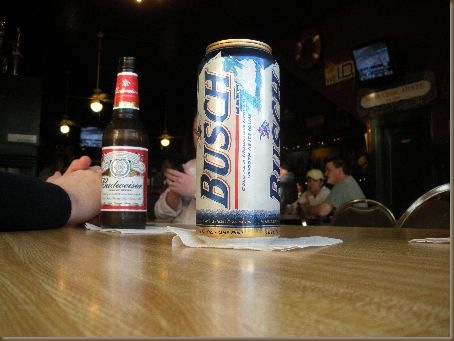 Back in the day when I frequented the 35'er in Old Town Pasadena, I would occasionally enjoy a girly, summer drink, a raspberry lemonade consisting of Stoli Raspberry, a splash of sweet and sour and 7-up. At Mary Todd's I think I discovered my girly summer drink's older sister who joined a biker gang and rode up and down the west coast for 20 years before settling in Astoria, and her name is the Yucca. The Yucca is fresh squeezed lemon, some simple syrup and vodka, lots of vodka, served in a canning jar filled with ice, sealed with a lid and then shaken profusely inside a towel for maximum frozen drink effect. It's delicious and refreshing and a monster the next morning.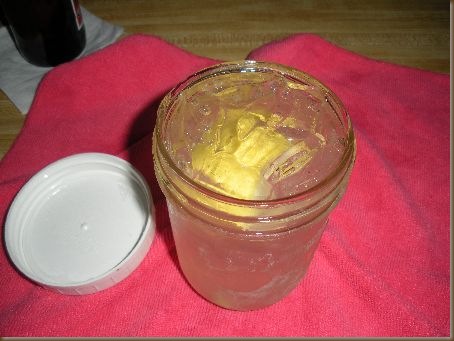 So, what really sets the Workers Bar apart from so many other dive bars?  The people, starting with Mary Todd herself who came by our table, introduced herself and shared a couple minutes with us talking about her life and her bar.  It's a great story and she's a great host.  Also, she's been known to dance on top of the tables from time to time. I think everyone gets swept up into the cordiality of the place, by the end of the night, we've abandoned our table, we're meeting other people, people are buying rounds and shots for us, dancing, etc.
Dave nicely summed up the bar "good people, hard lives, hearty meals, drink accordingly.
A quick shout out to the Cannery Pier Hotel as well.  In addition to the incredible accommodations, the hotel wants you to be safe when enjoying Astoria's libations.  They have a vintage Buick that will take you anywhere in town and, even better, will come pick you up when you're done.  In fact, if you get a ride from a DD like we did, they ask that you call the hotel because the driver won't go home until all the people he's taken out somewhere are returned to the hotel.  Bravo CPH!