Everyone likes root beer.  Its distinctive taste is comforting yet entirely mysterious and unique.  There are many kinds to purchase at the store.  A&W, Dad's, Hires, and my favorite, Virgil's, are all unique and delicious.  Buying root beer, like buying beer, is convenient.  However, it just doesn't seem right that this king of non-alcoholic beverages remain a commercial product.  I, Justin Garrity and friend of Dave's, decided to brew my own batch and tear down the wall that separates teetotaler mice from teetotaler men.
The Recipe
The first thing I did was search for the perfect Root Beer recipe.  This sounded easier than it turned out to be.  So many recipes included water, carbonation, and root beer extract.  It seemed like a joke.  Root beer from extract was not what I had in mind when I thought of making my own home brew.  I heard from Dave that a brewing store close to my house, Main Street Homebrew, in downtown Hillsboro, Oregon may have some recipes.  I found a great book there called, "Homemade Root Beer, Soda & Pop
" by Stephen Cresswell.  The book has numerous root beer recipes.  The main ingredient called for is sassafras root bark.  The problem is, sassafras root bark is very hard to find.  So, while still in the store, I decided to purchase some extracts AND stop by New Seasons to purchase some herbs called for in the various recipes.  I figured the beverage would have my own unique herb twist on it this way and I wouldn't risk ending up with something undrinkable.  So, I picked up some extracts and Main Street Homebrew and asked them if they sold any yeast for the carbonation process.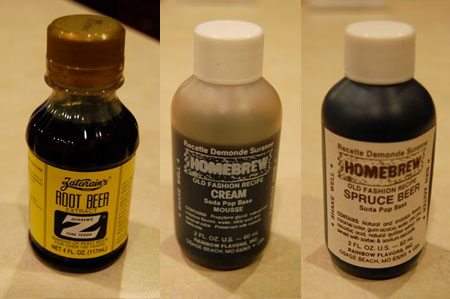 Making Bombs
When I asked them about the yeast, the man behind the counter gave me a dreadful warning that making root beer with yeast is like making bombs.  He said it was too dangerous as the bottles have a high likelihood of exploding.  He also said that they had a high likelihood of fermenting the root beer and so it was a very poor way to make root beer.  The method he suggested instead was carbon dioxide infusion.  This required a carbon dioxide tank and regulator (I borrowed this from Dave) and a cornelious keg, which I purchased from Main Street Homebrew.  It was used and set me back about $45.  With the extracts and the book, I spent about another $25. More on the carbonation technique later.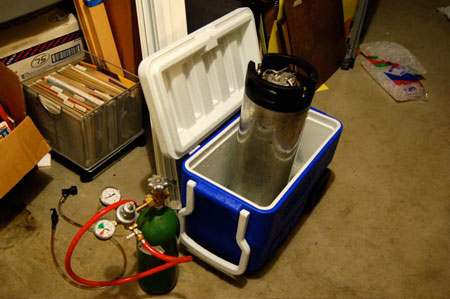 Herbs
I've always been mesmerized by the list of ingredients on the Virgil's root beer packaging.  I've tried to let the root beer slowly pour across my tongue to see if I could taste each of the many ingredients.  I knew that I wanted my root beer to be just as adventurous and diverse.  I stopped by New Seasons on the way home and they had almost everything I was looking for.  I purchased dandelion root, licorice root, star anise, cloves, cinnamon sticks, juniper berries, and wintergreen.  This set me back about another $20.  Man, this better be some good root beer.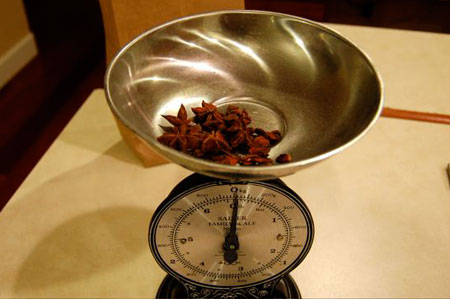 At home, I added all of the ingredients to a pot of water, brought it to a boil, and then let it simmer for an hour.  It smelled really good!  Even without the sassafras, it smelled like a rich, full bodied root beer.  After it had simmered, I added in raw sugar to sweeten it.  It tasted good.  It was very herbal but needed that root beer flavor.  I added in a half bottle of the Zataran's extract, a quarter of the birch beer extract, and a quarter of the cream soda extract.  The mixture was thick and tasted great.  Now for the carbonating.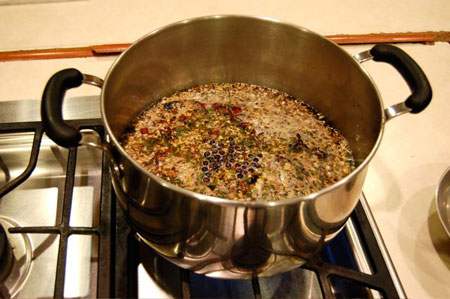 Rock and Roll
I poured the root beer brew into the keg and then added four more gallons of water.  This filled up the keg.  I closed it off and then set it in a cooler filled with ice and salt.  I don't have an extra refrigerator so this was the best way I could chill it down.  Once the mixture was quite cold, I hooked up the carbon dioxide tank, set it to 30 psi, and bled out the oxygen from the keg.  I closed up the keg and then set the regulator to 30 psi again, set the ice cold keg on my knees while sitting down, and rocked it back and forth.  This process is what carbonates the root beer.  After about 7 minutes, I tasted the root beer and it was PERFECT.
Rich, Creamy, and Frothy
My friends and I got together that weekend.  I brought over the homemade root beer and it was a hit.  The root beer poured great.  It was rich and dark, and created the perfect amount of creamy froth.  It tasted great as each herb could be tasted every so slightly while leaving a nice wintergreen finish.  The root beer lasted another few weeks as the keg provided a never ending supply.  I re-carbonated it a couple of times but it always had a nice pour.  Even thought I did use some extract, as the sassafras root is a bit elusive, the beverage was great and I dare say even better than Virgils.