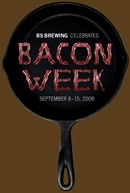 I am a popcorn freak. I have been regularly consuming popcorn since I was a wee pup. Hell, popcorn basically got me through art school. I'm growing some in my backyard. That's how much I love popcorn. So I was stoked when I heard that bacon salt supposedly paired well with popcorn*. In actual fact, saying popcorn goes well with bacon salt is like saying orange juice goes well with toothpaste. Bacon salt added to popcorn basically makes popcorn taste like BBQ Lays potato chips. I am not happy with this pairing. Please do not do this.
Before Bacon Salt: popcorn taste. Oily, a bit nutty. Needs salt.
After Bacon Salt (Original Flavor): Tastes like BBQ Lay's Potato chips, and not in a good way. Needs salt.
* It should perhaps be noted that I am a bit of a purist with my popcorn prep. I eschew the microwave (upstart technology) and go with a oiled pan on the stove, and add salt. It's really the only way.