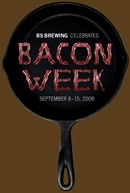 What's the perfect afternoon snack for Bacon Week? Why, Mo's Bacon Bar from Vosges Haut-Chocolate, of course. It's delicious milk chocolate, with teensy weensy bits of applewood smoked bacon and alder wood smoked salt inside. It's maybe the most delicious chocolate bar I've ever had, and I'm not sure that's a good thing.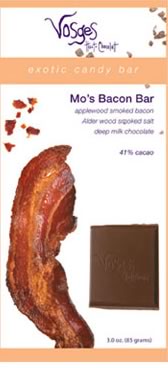 Here's what my co-workers had to say:
Mark: Salty, crunchy, and a bit repulsive. should I have more?
Anton: I think I want more – but it could be the bacon chocolate talking.
Kevin: Sweet front, but with a lingering hint of bacon on the end. A delicate balance of sweet milk chocolate and salty pork belly.
Thom: I can feel my arteries hardening with delight.
Dennis Leary had this routine about crack cocaine. I'm probably butchering it, but it went something like, "Only in America would a guy invent crack. Only in America would there be a guy that cocaine wasn't good enough for…"
Mo's Bacon Bar is kind of like that. It's really, really good. Frankly, it's probably too good. Like crack cocaine. Like Penelope Cruz and Selma Hayek in bed together. It can only lead to … more bacon-covered chocolate.