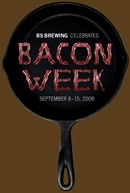 It's kind of hard to believe it's all over. We've spent the last 7 days of celebrating (and savoring) the candy of meats: we tried bacon candy, chocolate-covered bacon, bacon mints, and bacon-flavored jelly beans.
It wasn't all sweet: fake bacon turns out to be a horrible, horrible invention, and we must be missing something when it comes to the bacon bra.
Bacon doughnuts were universally well-liked, as were bacon bandages, but I think the "bacon beer", bacon wallet and bacon air freshener could go either way.
Canned bacon was the big surprise winner; I think everyone thought it would be horrible, but it was surprisingly tasty, as was the Baconator (for a fast food burger, anyway).
Bacon salt testing was a bit inconclusive. It was delicious on bland Russian dumplings, but too much for the subtle beauty of stovetop popcorn.
We had a few celebrities drop by: Sara Perry, author of the Everything Tastes Better with Bacon cookbook did an e-mail interview, as did the National Pork Board.
I know it may seem that we've exhausted the rich vein that is bacon, but there is so much left to do! I still have more than 20 products, links and recipes to share! In fact, I just found another one this morning, and the links keep coming! Mark your calendars for Bacon Week 2009 …