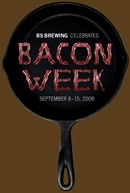 On an bacon-related errand after work today, I found myself near Belmont Station, Portland's Beer Mecca. There amidst the Allagash tasting and gaudily-colored Coney Island Brau, I saw a shining light: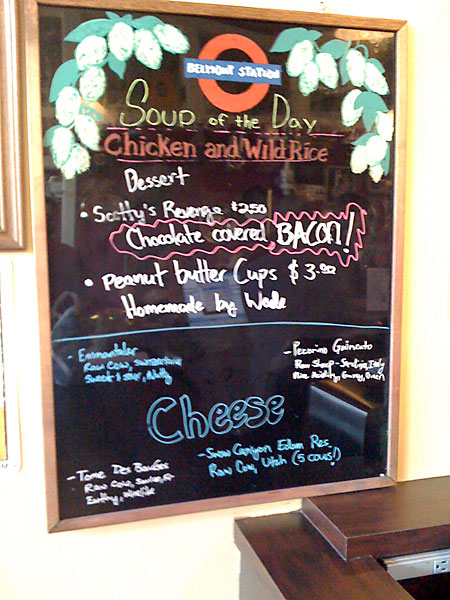 Wade, barkeep and budding chocolatier, had created true ambrosia: bacon-covered chocolate: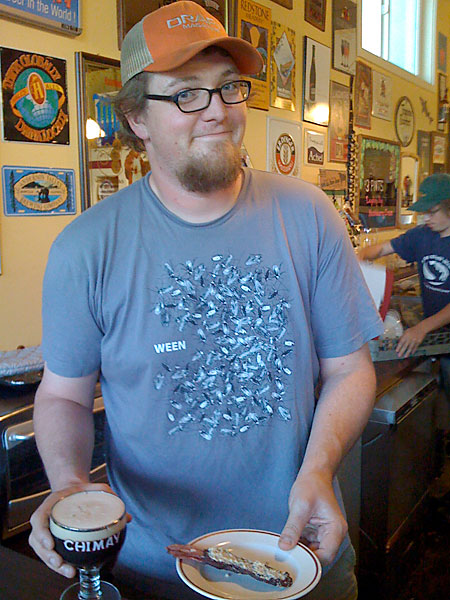 I first encountered this Simpsons-inspired concoction in Andrew's backyard. It was Icharus' wings writ porky: delicious, but with a fatal flaw: if the sun but glanced on its tupperware enclosure, it melted, revealing stickily sweet cacao-encrusted pork. Tasty, but inconveniently messy.
Wade's version was a bit more upscale, and a bit more Alaskan in nature, chilled to refrigerator temps before serving, and covered with crushed cashews.
Paired with Schneider Aventinus Eisbock on the chef's suggestion, it was like a savory banana split, hold ice cream, add bacon. The sweet banana notes in the eisbock paired superbly with the smoky, sweet, chocolatey goodness in the bacon. The cashews added (literally) another layer of nutty, salty flavor, making this … sorry, Andrew … the best chocolate-covered bacon I have ever put to my lips.