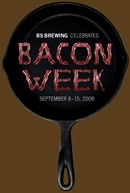 Yeah, that was pretty much my initial reaction to this product, too. Gross. I drifted away, thinking of the worst examples of the canned meat kingdom: potted meat, Vienna sausage, canned ham, and of course, SPAM.
Astute reader Joel sent me a link Monday to one of the most frightening web sites I think I've ever visited, with the certain exception of one Nate sent me last week (link withheld). MREDepot.com sells preparedness supplies (MRE stands for "Meal Ready to Eat" in army lingo), and does so with a wee bit of bravado and the ominous-sounding tagline "When disaster strikes, the time to prepare has passed …" Their customer service is, however, excellent. I ordered this product on Tuesday morning, and it was in my hands on Friday (I was too cheap to spring for express shipping), having shipped the day I ordered it. That's the kind of preparedness I can get behind.
We had a few people over to brew beer yesterday, which provided me the opportunity to spring Yoder's Canned Bacon on some unsuspecting friends, that is until Sarah put the kibosh on it. The guests and Sarah received some excellent farmer's market bacon for their backyard BLT's, while I went for the canned stuff. The things I do in the name of science …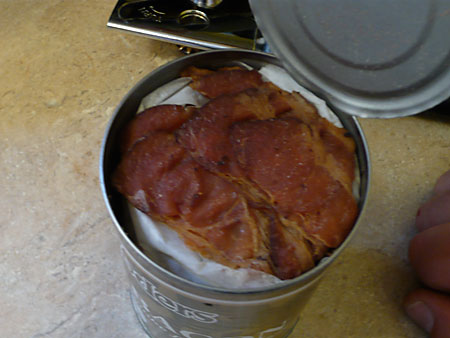 The MREDepot.com site has gratuitous photos of the unpacking process, so I'll cut to the chase … basically the good folks at Yoder's take 3 pounds of raw bacon, cook it, put it down on three sheets of butcher paper, roll the paper up, and stick it in a can. When you open the can, you do the opposite process: open can, remove rolled bacon, unroll, and remove from the paper. No aspic, no gross bacon juice to pour off, just bacon and paper inside (cue Intel sound).
Beyond the very odd presentation, it was actually pretty good bacon. Way better than fast-food bacon, but not as good as rolling your own homemade bacon. Being in a can, it wasn't crispy or warm, but a few minutes in a skillet would probably bring it up to the "delicious" category. This is legit bacon, from a can, and if the apocalypse comes, I would totally eat this again.