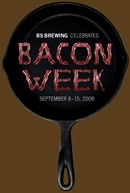 On Sunday, I literally put my money where my mouth is in anticipation of Bacon Week. Following a trip to Finnegan's, I became the proud owner of a Bacon Wallet, replacing my 10-year-old leatherbound edition with this printed, slightly padded pleather one. It's spacious, with 6 credit card slots and 3 large pockets for additional cards. 2 wide pockets hold cash and bus passes.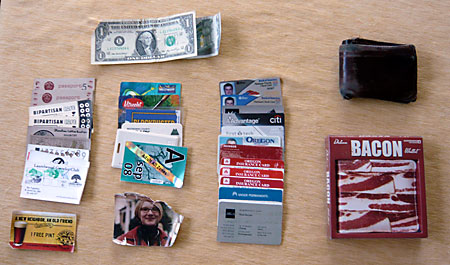 As strange as it sounds, I really like the padding this thing has. It feels comfortable in my pocket, almost soft, like a pillow of warm, raw bacon, but not nearly as greasy. The old one felt hard, with just a thin layer of calfskin against the hard plastic of my too numerous cards.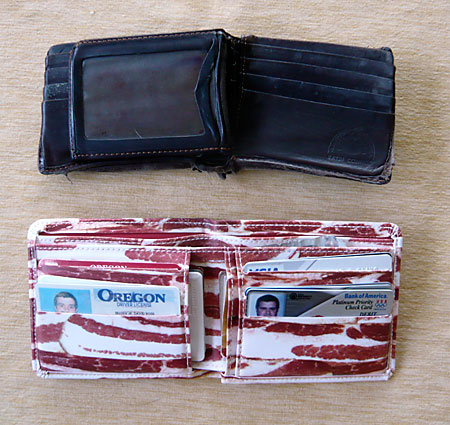 In the negative column, the bacon wallet
could be improved a bit. The lack of an ID window is kind of annoying, particularly in an alcohol-restriction-obsessed state like Oregon. The card slots are a bit tight, too … it would be nice if they were just a millimeter or two wider to allow for credit cards to get in and out a bit easier.
All in all, I'm liking this expression of the bacon lifestyle, though. Today, I even met my first bacon friends when I noticed they had a bacon wallet, too. That's mine in the foreground.