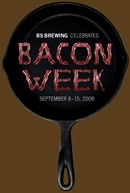 As I mentioned yesterday, I had intended to kickstart this week with a first dose of greasy goodness at one of my favorite breakfast joints, which I coyly kept secret. Until today.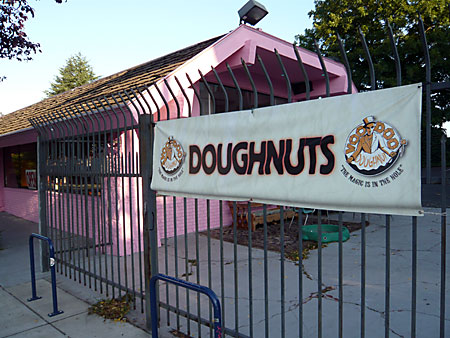 Voodoo Doughnuts is a Portland legend on the same status level as bridges or beer. Anthony Bourdain visited it, and it seems a required stop for nearly every travel writer who visits the Rose City. I always take out of town guests there, as it is one of those institutions that could only ever exist here. The janitor wears a bra and panties as he cleans. Sexually suggestive pastry names are the norm: Triple Chocolate Penetration (chocolate doughnut, chocolate glaze, and cocoa-puffs), Butter Fingering (Devils food, vanilla, and crushed Butterfinger) and Cock-n-Balls (suggestively shaped, too) are cases in point. They used to make a pink Pepto-Bismol cake doughnut that the rumor mill would have us believe that the FDA put on hiatus.
They have not yet stopped the Maple Bacon Bar, though. I stopped on my way into work today and was able to procure four of these raised doughnuts, each topped with a maple frosting, which is then topped with two small slices of honest to god bacon. Not bad bacon, either.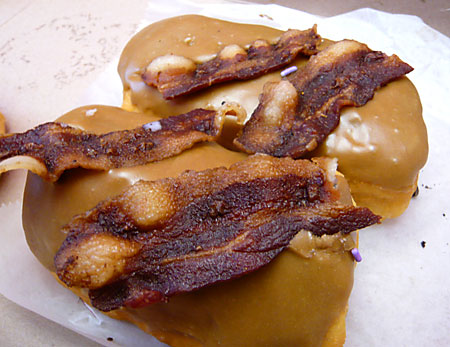 Co-worker Scott reviews it thusly: "An extraordinarily simple concoction: Take a maple bar, and top it with two slices of bacon. Bacon quality: Good. Just slightly overdone, not quite burnt. Maple bar quality: Excellent. The donut was soft and chewy, and the maple frosting was creamy. The bacon tended to slide in the frosting, forcing me to hold it down as I took a bite. The flavor combination was delicious, with the saltiness of the bacon acting as a counterpoint to overwhelming sweetness of the frosting. I would definitely eat this donut again."
Chris says, "The thought of bacon on a maple bar sounded gross at first. Then I thought about how yummy bacon tastes when drenched in maple syrup at a greasy spoon cafe on a Sunday morning. The bacon was crispy and oh so good! I would definitely eat this again, but I'm already hearing the elliptical machine call out for me after eating my 1200 calories of happy gluttony!"
Anton, a self-professed "meatatarian" who also tried the bacon chocolate bar, thought "Throughout the experience it was the crunchiness that let me know I was eating something awesome. Since a large part of the doughnut is the actual doughnut, the crunchiness is the only awareness of the bacon. However, between slosh and bite, a pure bacon chomp would explode onto my tongue and the ecstasy would momentarily paralyze my brain."
Mind control through bacon. I think we're onto something here. Someone call the Pentagon.