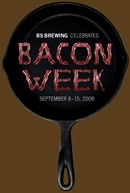 My friend and co-worker, Marci (aka Marci the Vegan Marathonner) bought me some bacon-themed gifts a few months ago, which was at least part of the inspiration for this week of bacon and bacon-related products. One of these products was a bacon air freshener. For cars. But as I write this, I wonder … wouldn't an aerosol spray version be amazing? Screw Febreeze with their "fresh" scent – when someone stinks up the bathroom at work, we could cover it up with a delicious bacon scent. The smell of fresh-cooked bacon, wherever you want it. Spray it in the kitchen in the morning, and make everyone in your house think there was a bacon breakfast coming … such a cruel, cruel trick. The psychological power you'd wield … But I digress.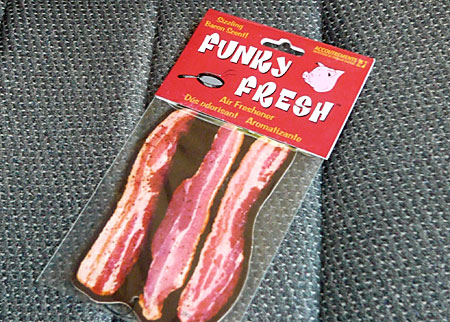 I think like a lot of bacon products, the packaging may be the best part of this product. The multi-lingual label is great in its optimism: as if anyone other than an American would be silly enough to buy this product. Although, the Europeans do appear to support not one, but TWO brands of bacon-flavored potato chips, so I could be wrong.
As air fresheners go, this is a well-made one, with nice, photo-quality bacon. It just looks good hanging in your car.
How does it smell? Not very bacon-y, to be honest. It's got a savory smell to it, for sure, though I would call it generically meat-scented, and not anything I'd call specifically bacon-smelling. It has just a hint of smoke, but it does provoke a hunger response. Driving to work one day last week, I got some hunger pangs when I got in my car at the end of the day, but I wasn't craving bacon (any more than I usually do, which is pretty often) in particular.
I did have a funny experience driving TO work, though … As I pulled onto Glisan, I noticed I was directly behind an ambulance. I think they should have been following me, though!