I was up in Seattle with my dad last weekend for the Red Sox/Mariners game (and his 50th birthday; happy birthday, dad), and on Tuesday morning, I finally had the chance to try Salumi, a new-ish deli in Seattle's old town owned by Mario Battali's father, Armandino. I first heard of the place on Anthony Bourdain's "No Reservations" television show, and then it seemed to be everywhere else I looked afterward.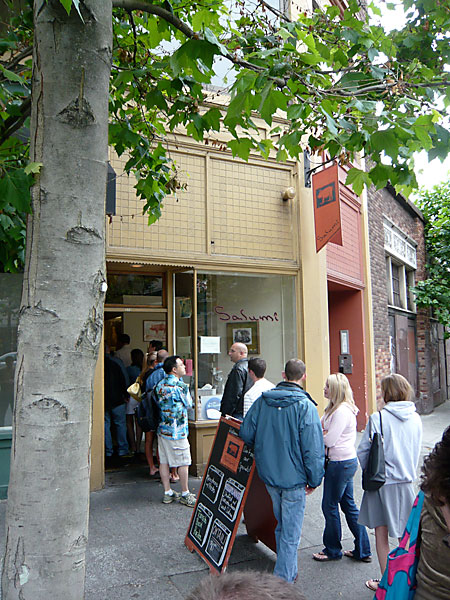 Salumi has been open for several years, but the lines haven't gotten much shorter. I arrived around 11:30 (they're open 11-4, Tuesday-Friday), and still had to wait about 20 minutes before getting inside. The Salumi experience starts outside, though – plates of house-made, thin-sliced salami kept getting passed back through the line as a sort of meat apertif. I got to try the Dario, a salami made with nutmeg, mace and peppercorns, as well as the Agrumi, made with orange peel and cardamom, while waiting.
The decor inside is minimal, probably a good thing with the combination of a small space and a large crowd. Family photos adorn the walls, along with a chalkboard or three touting the day's offerings.
As the line finds its way inside, the last stop before the gloried counter is a peek inside the meat vault, filled with the on-hand supply of various salamis, prosciuttos and assorted cured items.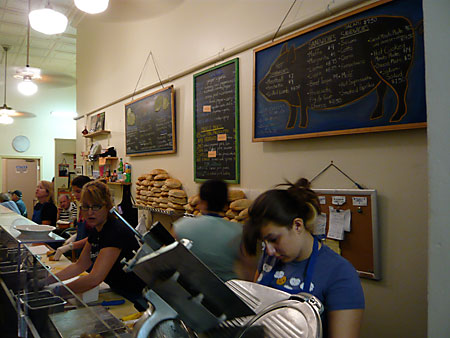 When at last I reached the counter, things moved fast. There were 4-5 women taking sandwich and meat orders, and many, many delicious-sounding choices. I ended up getting the Oxtail Sandwich on special, described to me as "the most gourmet sloppy joe you will ever eat." In addition, I stocked up the … ahem … larder with 1 pound chunks of the aforementioned Dario salami, their Hot Sopressata (cayenne and garlic) and Smoked Paprika (duh). I also grabbed a small piece of Guanciale for cooking.
But I digress … take a gander at this, what must be the pinnacle of the sandwich-maker's art:
Topped with soft, almost translucent green peppers and onions, it was salty, tomato-y goodness in every bite. I was worried the "slop" part of the experience might be grease; I needn't have. I'm sure there was fat in this sandwich, probably more than was good for me, but it was woven in with tender, tender, meaty, stringy, chunks of the cow's fifth appendage, and encapsulated in a awesomely crunchy piece of baguette. About three bites into the sandwich, soon after I took the above photo, one of the employees (I believe some relation of Armandino Battali) delivered a metal fork, saying, "a sandwich like that deserves a real fork."
To which I say, "A sandwich like that deserves a repeat visit." Seattle, here I come.