This solstice, Sarah and I celebrated 5 years of marriage by taking a weekend vacation at the coast. We spent our evenings in Gearhart, but took a day trip up to Astoria on Saturday to check out the town, and especially, Fort George Brewing Company.
We had intended to eat lunch at the brewery, but less than stellar weather and a growingly, growlingly impatient dog left time only for a sampler tray and a growler fill. I really liked their tray aesthetic as a woodworker, and it contained some pretty stellar beers.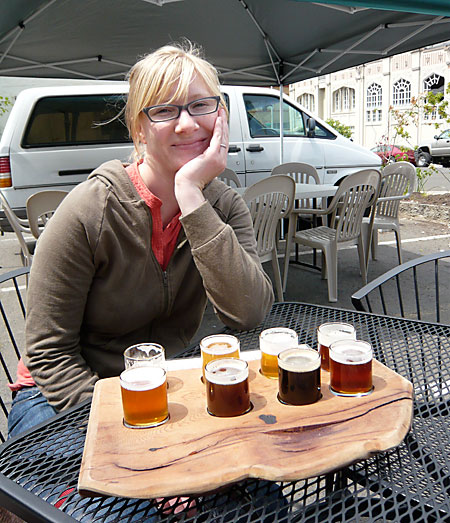 On tap, clockwise from top left were:
Quick Wit (very spicy and pretty refreshing)
π Beer (Strawberry rhubarb wheat? What? Are we teenagers?)
Sunrise Oatmeal Pale (great beer with subtle bitterness, nice mouthfeel and biscuity malt: liked it so much I attempted a clone)
Nut Red Ale (astrigent, kinda nutty, but not in a good way)
Vortex IPA (solid IPA, lots of citrus and floral; this was what I ended up filling the growler with)
Panamax Porter (don't remember flavor, but color was more like a brown or even a red)
Cavatica Stout (again, memory fails, but I don't recall it being bad)
Illuminator (a doppel bock brewed last fall and aged in Jim Beam barrels. You can probably imagine what this tasted like, but picture a few more bananas, and if you had two or three pints, those bananas would be dancing. Tasty)
Because we were pooched, we sat outdoors, but went in occasionally for bathroom breaks and the like. The interior was very Northwest, with lots of exposed beams and creative use of industrial materials. There were a lot of locals inside, which is always a good sign. Guest taps from Rogue I2PA, Hopworks DOA, and Mad River DIPA. That's a lot of acronyms. Did I mention the bathrooms? This one was a trompe l'oueil miner's shanty. Even the "hand washing sign" had been aged. Thankfully, the toilet paper was new.
All in all, a great little find in Astoria. Next time, I'll try the food, and bring along a second growler. We polished the first one off the night we got home!