Sarah and I spent some time this evening at Belmont Station assembling our lineup for this year's Independence Day party and beer tasting. Last year, you may recall that we went with a "Red, White and Blue" theme, including such beers as Pabst Blue Ribbon, Allagash White, … you get the idea.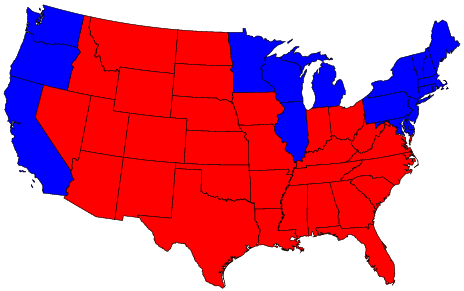 This year, being an election year, we're going with a "Red vs. Blue" state theme. Sarah and I assembled two beers in each of six styles (so far). One of the beers is from a red state, and the other is from a blue state. We'll pour the styles blind, side-by-side, and ask tasters to vote on which beer they think is better. Arbitrary? Yes. Simplistic? Sure. Does a two-party system lead to knee-jerk reactions on complex issues? We'd better keep the rhetorical questions out of this blog …
I'm holding the full list of beers back until after the tasting to prevent abuse, but I will share with you this one observation, based on a limited sample of one beer store: blue states produce a lot more craft beer than red ones. I know, I'm shopping in a blue state, nestled in a craft beer sandwich between Washington and California, but … I'm just saying.
So far, the red states are Idaho, Wyoming, Montana, Alaska, Louisiana and Colorado. We're trying to avoid duplicates, but we would like to include one or two more red states. Anyone know of other red states with beers distributed in Oregon? Extra points if you know of a "red" from a red state.