Thom, Bruce, Amanda and I met up for lunch at Deschutes' new Pearl district location today. The grand opening is on Friday, but apparently the restaurant has been open since Monday, and I'd advise a quick trip later today or tomorrow if you want a peek at it anytime soon. With all the buzz this has been getting, plus a Friday opening, plus a swanky downtown location … do the math.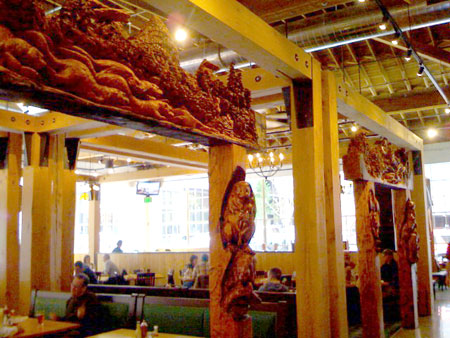 The space is, quite simply, amazing, with a huge open feeling and tons of natural light from the windows on the South and West walls. Exposed beams, concrete floors, and the other Pearl District de rigeur architectural features are there, but the brewery has gone a bit more Oregon than Pearl in the finishing details. Much has been written already about the wood carvings (they are really cool), but I haven't seen much about the wall memorabilia, which includes the original label artwork for beers like Black Butte Porter (pronounced "byoot" for the midwesterners in the audience, rather than the much funnier, but possibly offensive, pronunciation, "butt"), Cascade Lakes Organic, and others, as well as a pretty good collection of awards near the restrooms. The effect is really tying the new location to the brewery's long history in Oregon – Mirror Pond was my first love, and hanging out in the place brought back some nice memories, and not in the faux antiques way TGI Fridays does … it felt real, and sincere.
The food was also fairly Oregon in nature. Thom and I both had the Elk burger, which we both agreed was a little bland, but decent. The sweet potato fries (Yes! They have sweet potato fries!) were just this side of overdone, but it's a little too soon to pass judgement on the kitchen, I think. I had a Mirror Pond/mango Kumamoto oyster shooter that was delicious, if a little too done up for my tastes. Being the Pearl, there were some pretty pricy entrees on the menu: a lobster ravioli for $21, and a beer-braised NY steak for $26. A little rich for lunch, methinks, but I might give that steak a whorl some night on the town …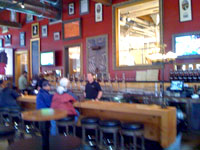 And what about the beer? They have all the standard offerings on draft in the long bar, as well as some pub exclusives: Bachelor Bitter, Rootin' Tootin' Low Gluten Ale, St Tanith (a fruity-tasting high octane Belgian-style ale), 2005 Mirror Mirror, and Kilgorian Vanilla Porter, which was unfortunately tapped out by the time we got there. The last three are all served in snifters for $3.50, but 20 oz. pints of the others are a reasonable $4.25 (hey, it's the Pearl district). Half pints are $2.50, and a six-pack sampler tray is $6.00.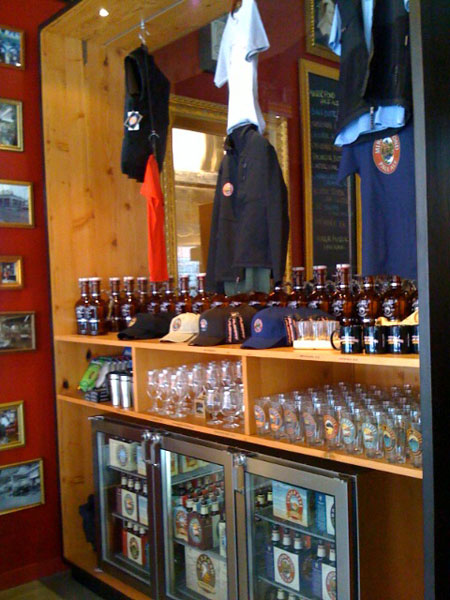 On the way out is a nice little gift shop with t-shirts, hats and some glassware I've never seen from Deschutes.
All in all, a pretty nice place within shouting distance of Powell's, a streetcar stop, Pearl District shopping … I think Bridgeport and Rogue have gotten a very strong competitor in the neighborhood. By comparison, Rogue looks ratty (and smoky – why?), and Bridgeport out of the way with over the top decor. Bridgeport still has the edge on food, though. For now …