From Flying Dog Brewing's Official Blog:
As some of you may have heard, Flying Dog Brewery announced on Tuesday that we are embarking on the next step in our illustrious, 17 year history of crafting remarkable beer by concentrating all of our brewing and production to the brewery in Frederick, MD, where 70% of Flying Dog Beer is already being brewed. This move will take place in January and we are working to ensure that our entire production team will be able to make this move over to Maryland.
That's right – Colorado's most iconic brewery is moving to Maryland. Why?
We look forward to ramping up production and growing our business even more than the +20% trends we are experiencing in 2007
I'm no economics whiz, but if I am correct in reading between the lines, they're saying that more than 20% growth in one year is unacceptably small, and they're going to seek browner pastures on the East Coast. In Maryland. Home of … Baltimore.
Call me crazy, but I find it pretty hard to believe that things could be that much cheaper in Maryland. It seems unbelievable that real estate would be cheaper in the lonesome, crowded East, but transportation alone seems like it would kill this deal. The hops are travelling farther, the grain is travelling farther, and the finished beer is going to travel a LOT farther, from the east coast to points far West. I can tell you with 100% certainty that transportation costs are going nowhere but up. But I'm sure they've crunched these numbers themselves.
I'll focus instead on the traitorous-ness, the anti-Coloradan, the anti-Gonzo nature of this.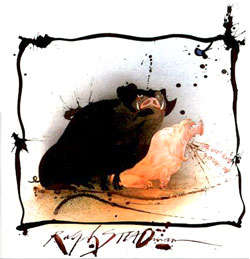 Flying Dog's identity is Colorado. Their labels are drawn and designed by Ralph Steadman, Hunter S. Thompson's illustrator. Hunter Thompson is himself a Coloradan, one who ran for Sheriff of Aspen several times, and it was this fiercely independent, "Gonzo", COLORADO attitude that Flying Dog's marketing department attempted to capitalize on in selecting Steadman as their label-maker.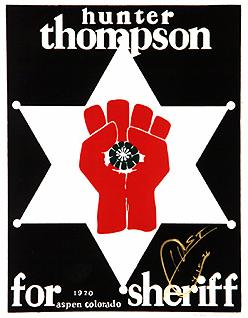 If I was a Coloradan, I'd be pretty pissed about this disloyalty. Coloradans weaned this brewery for 17 years, and upon reaching adulthood, Flying Dog has decided to pay Colorado back with the removal of brewing and manufacturing jobs in the name of the bottom line. Basically, Flying Dog has turned into a giant, mother-fucking pig.
So I'm going to put this out there, to you, Mr. Stranahan and the rest of your spreadsheet-happy corporate tenders … What would Hunter S. Thompson do? Is he the kind of guy that would walk out on a friend, or is he the guy that would take a buck, walk, and "fuck you, too?" Would he want to be associated with this profit-driven factory farm bullshit, or would he be into big talkers who lived the right way – their own way? I never met the man, but I've read enough to guess where his chips would fall, and I'm pretty sure their resting place wouldn't rhyme with "buryland."
And while I'm at it, your flashy website navigation pisses me off, too.