Not sure how it happened, but the holidays are here again. And with them, the request for Christmas ideas from our loved ones. At BS Brewing, we don't really go in for "neckties," but we feel a little funny asking Aunt Mildred for a wort chiller. This year, we developed a handy list of things we like, and think you will too. Pass this link along to Gladys. She'll get the hint.
Charcuterie Cookbook.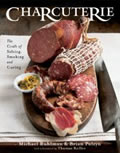 If you're not making your own bacon yet, you obviously haven't been paying attention to this blog, or the 100,000 or so people who followed links to our article on how to do so. New Zealanders, Finns, and yes, even Iowans have sent us photos of their attempts, and they all look amazing. Trust them, trust us, and read the book that started it all, Charcuterie. $23.10, available from Amazon.com
.
Laser (infrared) Thermometer.
Originally, I ordered this to do some beer glass testing (coming 2008), but have found new uses for this novel gadget every day. I've used it to check wort temperature (having killed several digital thermometers by way of immersion), check oil temperature in cooking, and even to see where cold air was entering my house. It's also a source of endless feline entertainment. $39.95, available from Amazon.com
.
Michael Jackson's Ultimate Beer.
Unless you've been living under a rock this year, you've probably heard the news that the famous beer writer died this year after a battle with Parkinson's disease. Thankfully, his words live on in this lushly-illustrated coffee table book. Its emphasis is a little more British, but provides a great background on the beer styles of the world. $19.77, available from Amazon.com
.
Meat Slicer.
Once you start making your own bacon and sausage, you're going to want one of these puppies. Converts ham to ham sandwiches in under 2 minutes. $99.95, available from Amazon.com
.
Kegging System.
If there's one thing I dislike about homebrewing, it's washing bottles. I typically go in for 22 oz. "bombers" since it requires me to sanitize about half as many containers as I'd need to if I used 12 oz. bottles. Even easier, though, is kegging beer. 1 container, sanitized in about 5 minutes, to make 5 gallons of awesome. $189.95 gets you a regulator, C02 tank, hoses, and pressure-tested 5 gallon Corny keg from Let's Brew in Portland, Oregon.
Kegerator.
Of course, once you have a keg, you're going to need a kegerator. Get something purpose-built, or get your started by requesting a gift certificate from Steinbart's here in Portland. $200-500.
Beer Movies.
Like beer? Then you'll love sitting on your ass with a cold one while you watch a movie about a real-life beer road trip (American Beer
), a fictional beer-drinking contest (Beerfest
), or the movie that begat the "beer movie" genre (Strange Brew
). $10-20, available from Amazon.com.
Digital scale.
When you get serious about homebrewing, you get serious about your recipes, tweaking them over and over until they are just so. And the best way to do that is to ensure a consistency of measurement. In brewing, that measurement is weight. Get accurate, without spending a fortune. As a bonus, it's great for portioning your homegrown hops! $24.95, available from Amazon.com
.
Fancy Beer Glass.
Some are content to drink swill from the bottle, and some are content to slurp their beer from aluminum cans. But not you. As a true connosseur, you deserve the best. And in our opinion, the Duvel beer glass is the king of kings, with its unique tulip shape, delicate lip, and laser-etched bottom. $5.99, available from Belmont Station in Portland, Oregon.
Subscription to Beer Advocate magazine.

A whole magazine about beer? Believe it or not, there are actually 7 or 8 magazines devoted to beer culture, but this one is the best, in our opinion, edited by the Alstrom brothers, the livers who brought the world BeerAdvocate.com, the most heavily-trafficked beer review site online. $19.99 for a 1-year subscription, available at BeerAdvocate.com.