The more I get to know beer, the more I tend to like it at one of two extremes: old (aka "aged," as in "oak-aged imperial stout"), or very, very fresh. I don't mean "freshness label" fresh, and I especially don't mean "best by" fresh. I mean straight from the fermenter to your mouth fresh. Most breweries, however, will not let you put lips to keg. The next best thing in my book, then, is the humble growler.
For the uninitiated, a growler is a large, 64 oz. brown glass jug that looks like it would be equally well-suited either as an instrument in a Appalachian mountain band or as a vessel for delicious local beer. It may be helpful to think of a growler as a "family-size" or "Costco-size" beer. Some breweries, like Laurelwood, have attractive silkscreened growlers available for purchase. Others, like tugboat, keep it real with a simple, unadorned brown bottle. Either way, a growler is a good investment.
While freshness is the main benefit, there's another reason to join the growler club – that of responsibilty. Many's the time I've found myself in the Gorge for the day, and stopped in one of the breweries for some lunch and a pint of micro. And as is often the case, there's a lot more on the chalkboard than I can responsibly consume and still be able to drive back to Portland sober. Enter the growler, deus ex machina.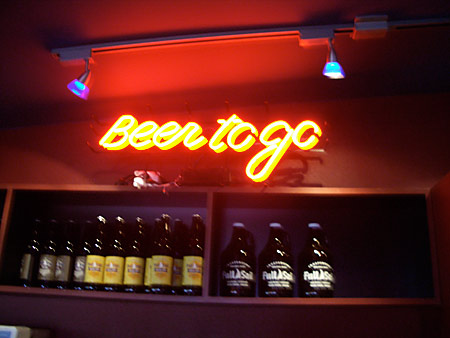 Most breweries will fill up growlers for a reasonable price in the $10-12 range, making growlers a fairly ecomomical way to enjoy craft brews at home. The fill price is usually roughly in correlation to what 4 pints of beer would cost at the bar. But if you're just getting started in growlers, the first one will be more expensive than the prices listed below, as you'll essentially be buying the container and filling it.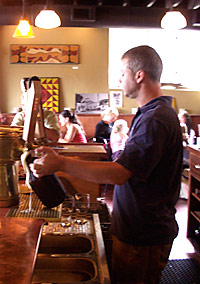 Over the last few months, I've filled my growlers at many Portland-area establishments. I like to try new things, so I move around more in search of new flavors than price, but I have noticed some rather large price discrepancies as I've travelled by beer, with the cheapest fill being Portland Brewing's $4.95. Rogue has the dubious distinction of being the costliest half-gallon of brew, with fills starting at $15. I started taking notes on prices a few weeks ago, and compiled the list below. I will update it as I notice the information changes. Please get in touch if you see an error.
Portland Growler Prices
Amnesia Brewing: $10
Big Horse Brewing (Hood River): $9
Bridgeport: $101
Double Mountain (Hood River): $10 $11 (updated 06-20-09)
Full Sail (Hood River): $7.50
Laurelwood: $9
New Old Lompoc: $8
Mash Tun: $10
Max's Fanno Creek Pub (Tigard): $12 $13 (updated 05-24-09)
Pelican Brewing (Pacific City): $13
Portland Brewing: $4.95
Rock Bottom: $6.95
Rogue: $15-202
Roots: $11.25
Tugboat Brewing: $103
Walking Man (Stevenson, WA): $9.354
Widmer: N/A5
Bridgeport requires the growler be a Bridgeport growler, which are available for $15 empty, or $25 filled. In my studies, this is the only place I have encountered whose policy is not to fill a competitor's growler, although I bet if you bring a non-branded one in, they might let you slide if you smile nicely.
Rogue's beers start at $15 for low-octane brews; specialty, high-octane brews go up to $20. While that may seem steep, many other breweries limit growler sales to "standard" beers and sell special beers in limited quantities on premises.
At Tugboat Brewing, a growler costs $10 (4 x $2.50 pints) to fill during happy hour, and theoretically somewhat more outside happy hour (I'd suggest just going during happy your). Either way, if you want to enjoy Tugboat's beer anywhere outside the confines of the brewpub, a growler is your only option; Tugboat does not bottle their beer, and to my knowledge, they don't distribute kegs elsewhere.
As the only Washington brewery on this list, Walking Man's prices are subject to sales tax: 7% for a total with tax of $10.00.
Widmer operates under a "brewery license," so they are unable to sell beer in quantities smaller than 5 gallons, which is too bad, because their most interesting beers are often only available at the Gasthaus or certain Portland pubs.