I'm starting to gather a reputation as a fairly self-sufficient guy. Of course there's the homebrewing, the woodworking, the gardening, and yes, we're thinking of getting some chickens. So I was not really surprised when my sisters got me a book on home meat-curing for my birthday, the simply, yet fancily-named Charcuterie
. Beyond its appeal as a potential source of deliciousness, the book is stuffed full of great pencil drawings of one of my favorite subjects: meat preparation. Sausage, Prosciutto, Jamon Serrano, Saucisson Sec, and that staple of every Iowan's diet, sweet, sweet bacon. Home-made bacon. Made … at home. By you. Holy. F-ing. Shit.
Perhaps home-made bacon's greatest appeal to me was the possibility of slicing it to whatever thickness my heart desires. Actually, my heart desires me not to cut bacon that thick. But my stomach will really be into it. Speaking of stomachs, home-made bacon offered me another once-in-a-short-lifetime opportunity: the chance to speculate on pork bellies.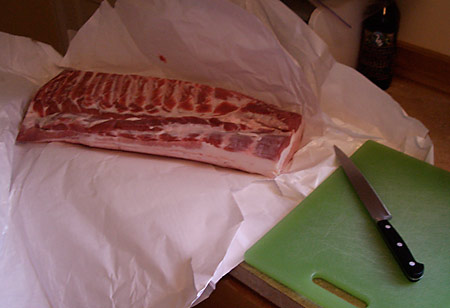 (If you're listening along at home, I am from Iowa, the land where pork belly futures are read on the 6 o'clock news, and hourly on the Farm Report. I have even been on the Farm Report, when the ad agency I worked for offended tractor afficianado's statewide … but that is another story. On to the pork belly.
My speculation? This is going to taste delicious. It already looks like bacon. Raw, squirmy, sickly pink bacon. I ordered this "proto-bacon" from my favorite local meat market, Gartners, paying about $3 a pound for a 12-pound slab. I have also heard that is available from Asian markets, perhaps cheaper. I began by cutting it into three pieces, leaving the skin on. I also discovered for the second time that pig parts look eerily like human parts, with the possible exception being that I know few people with USDA grading tattoos. Although "USDA No. 1" might be a pretty sweet one, now that I think about it.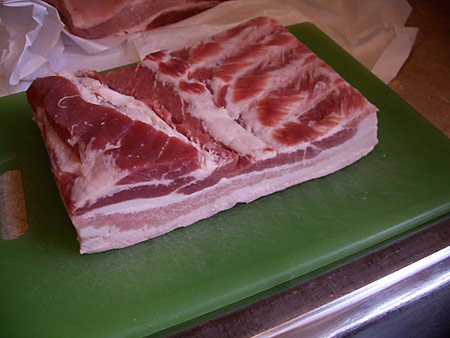 Next step: the rub. As in "herein lies the." Since I was doing this for the first time, I made three different rubs for the three different slabs. The first was 1/2 cup of brown sugar, and 1/2 cup of Kosher salt. Which is ironic, if you think about it. Go ahead, think about it, you anti-Semite jerk.
The second rub was 1/2 cup brown sugar, 1/2 cup kosher salt, and 1/2 cup Maine maple syrup, procured in Freeport, Maine at L.L. Bean's headquarters. Buying maple syrup from L.L. Bean's headquarters is a bit like eating pizza at Sbarro's while visiting New York City.
The third and final rub added freshly-ground black pepper to Rub No. 1. There is no joke associated with this rub. That's the rub, I guess.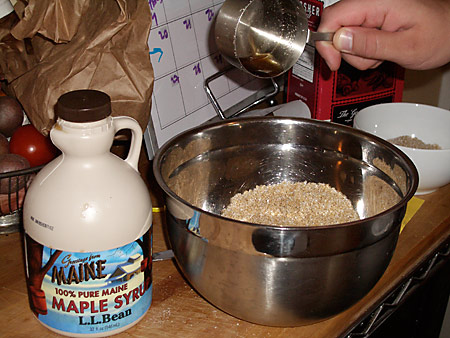 This is the step that I call the "Vegan in Hiding" step. If you suspect someone you trust might actually be a vegan, simply ask them to rub a sugar-salt-syrup mix into the still-slightly-hairy skin of a raw pork belly, while you sing "Rub It In" in your best Boris Karloff voice. This reveals all but the most repressed vegans. For those, you'll need a Caja China.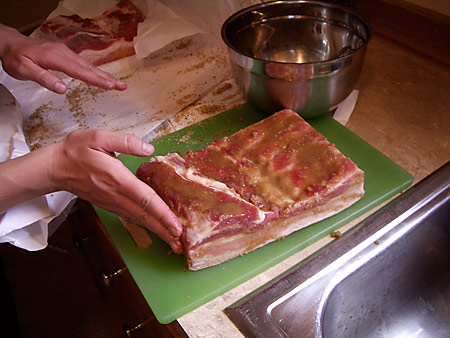 Bag the bellies, and pop them in the fridge. Every two days for the next seven, flip the bags over. The salt/sugar/syrup acts as a cure, flavoring the meat as it draws moisture out of the proto-bacon. If I'd paid more attention in biology, I could probably tell you what's going on here. But I can't. And Mr. Wizard is dead. So we'll probably never know.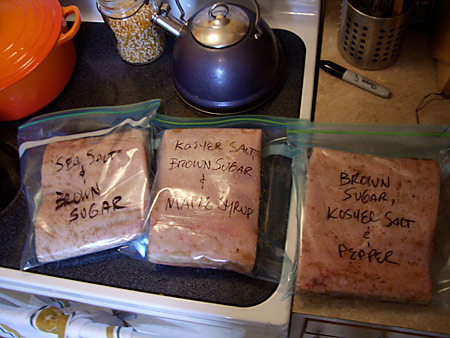 On the seventh day, rest … er … rinse. Get all that cure off.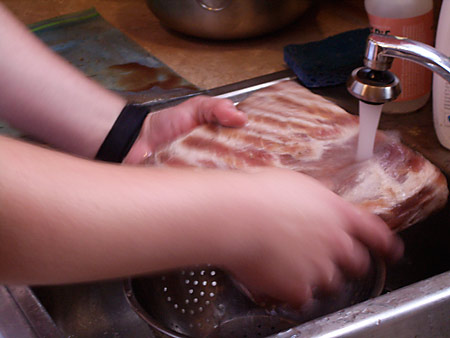 This next step sounds a little gross, but I assure you, it is crucial. Leave the bacon in the fridge for the next 12-24 hours, uncovered. I put mine on a cooling rack in a backing pan, so they would be elevated. According to the book, this is called "forming the pellicle," which to me sounds like a weird art rock album by Hawkwind, but is apparently a layer of sticky goo on the outside of the cured meat that smoke will adhere to. By this, I gather the book's authors consider "pellicle" tastier than "Elmer's."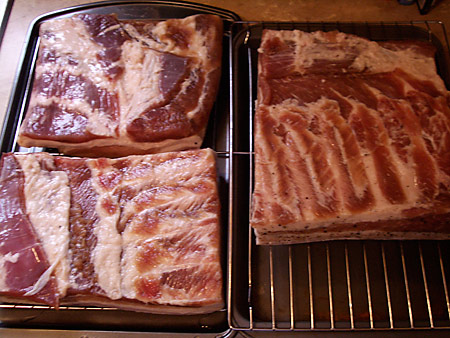 12-24 hours later, pellicle formed, it is time to smoke the bacon. If you are counting along at home, this is the first time we will cook the pork. I prefer hickory smoke for my other pork-cooking activities, so I went ahead and used hickory chunks for the almost-bacon. If you need a smoker, I highly recommend the Weber bullet-shaped version
.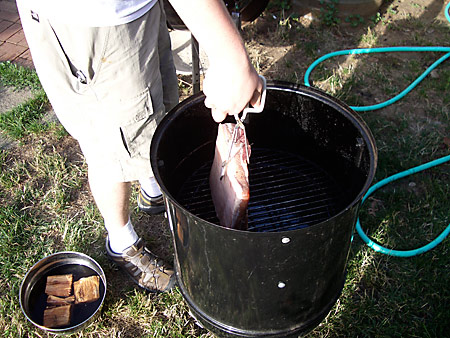 I almost fogot: place the bacon on the smoker skin-side-up. This has two purposes. One: the skin prevents smoke from reaching the tasty meat. Smoke goes up. Thus, the meatiest side goes down. It's common sense. Secondly, under the skin is a thick layer of fat and collagen that will gradually melt as you slow-cook the pork, essentially self-basting the bacon. Self-basting bacon. Hmm. "Patent office? Yes, it's Dave Selden again. Hello? Hello?"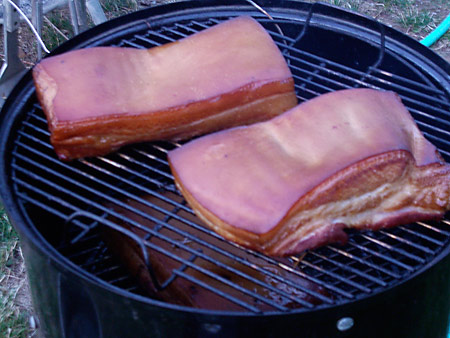 The idea here is to smoke the bacon until it reaches an internal temperature of 150 degrees. Stick the ol' thermometer in the fattest part. This may be hard to identify, as bacon is approximately 50% fat. Resist the urge to lick the delicious, home-made-bacon-flavored thermometer when you're done.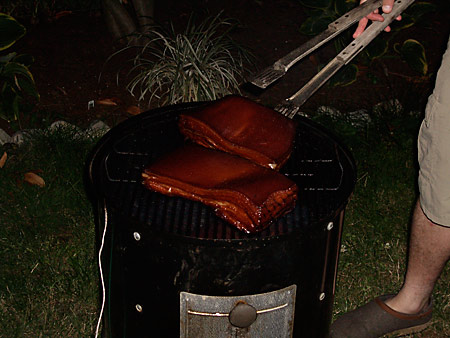 Once you hit 150 degrees, pull the bacon from the smoker and put it on a platter. If your guests enjoy the rougher flavors of young, once-cooked bacon covered in a layer of smoky, rubbery pork skin, serve. If you prefer twice-cooked, or "delicious bacon," let the slabs cool down to handling temperature, about 149 degrees, which is pretty much as long as you're going to be able to wait to slice into this delicious stuff, which now contains more free radicals than a PETA convention, thanks to that tasty pellicle.
The below picture serves no instructive purpose. It is purely to stimulate your saliva glands. Have you ever seen anything more beautiful?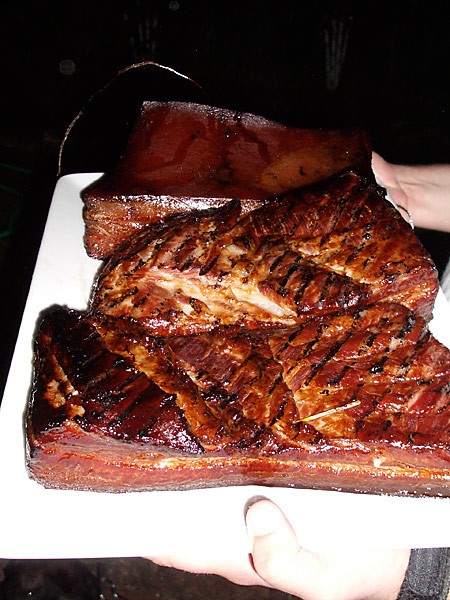 The next step is pretty awesome, I have to say. Take a sharp knife, and remove the pig's skin. If you are crafty, you can save it for football-making. There's plenty of fat there, but leave as much on as you can. Why? Because the book said so. And that is good enough for me. Anything that produces results this appetizing is worth trusting.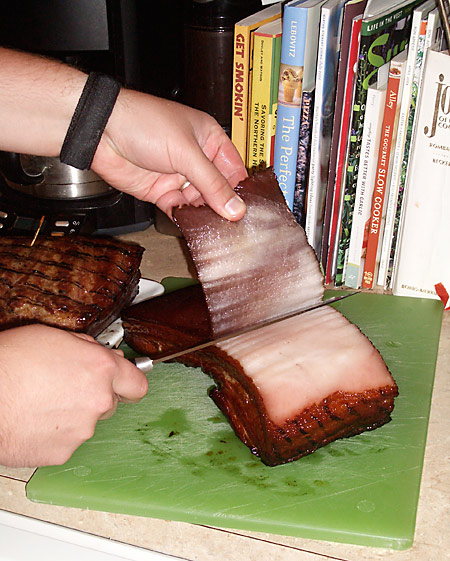 Congratulations! You made bacon! At this point, you have the option of eating the bacon, or of saving the bacon for later. I sliced my formerly 4-pound slabs into smaller breakfast-sized sections and Food-Saver'd
all but one of them, and put them in the freezer for later. And by "later," I mean "the next day."
Actually, the last step is the most important. You need to fry up the bacon, which is the second time you cook it, if you are still playing along at home. I use a cast-iron skillet, personally, and recommend you do, too. Low and slow holds here, too. On my electric range (I know, I know), my burner dial goes to "11." I cook bacon at "3." Sure, it takes awhile, but this isn't exactly Minute Rice we're making here, is it?
Is it good? It is great. Delicious. Kind of unbelievable, actually. I sliced mine about 3/16 inch thick, which is something you just can't get at a store, and which results in a piece of bacon that is crisp on the outside, and slightly chewy on the inside. It compares with the best bacon I have ever had (and I have eaten bacon in all 22 states and at least five countries), and a lot less expensive than Nueske's or that citified Niman Ranch.