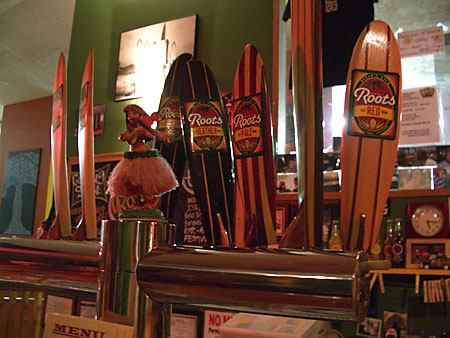 Ahh, the holidays. How I wish I could spend every Tuesday afternoon in a brewpub. Last week, Bruce and I took the afternoon "off" to visit Roots Organic Brewing in SE Portland. A recap follows …
Our first stop is lunch at the Lucky Lab, but only because Roots is closed until 3 PM. I haven't been to the Lucky Lab for awhile, but am pleasantly surprised by the "Super Dog IPA" I order. Lots of floral hoppy flavor, and, as I barely remembered about Lucky Lab's beer, peculiarly potent. I drink a fair amount of beer, and most of that beer is of the fairly high octane variety. But after just two pints at the Lab, I feel pretty buzzed. I'm not sure what they put in there (alcohol?), but watch yourself.
At any rate, after a sandwich, some corn chowder, and two pints apiece, Bruce and I are on our way to Roots Organic Brewing. The two-hour delay is probably a good thing, given the state of the bar when we arrive. They have just applied a fresh coat of varnish a day or two ago, and it's still pretty tacky. And by "tacky" I mean "sticky." Not "tacky" like taking a half-finished six-pack home with you after a party.
First up, the beer Jeff Alworth has been talking up, Epic Ale. On draught, they are pouring the 2006, while the 2005 is available on cask. I order the 2006, and Bruce the 2005. Both are served in 8 oz. goblets for the incredibly low Tuesday-only price of $2.50 (pints are also $2.50 on Tuesdays).
This beer has strong notes of clove, anise and black licorice, and they are more apparent in this beer than any I've had recently (and I've been drinking a lot of spiced beers lately). The beer is big, with 13-plus percent alcohol, but you'd never know it from the flavor. It was almost too easy to drink, smooth and well-balanced, like warm motor oil laced with just the right winter spices.
The IPA is fantastic too, with a nice amount of chewy malt and plenty of hops to back it up. The alcohol is far less intense than the Lucky brews we had hours earlier, for which I thank my good fortune.
Perhaps better than the beer, though, is the joy with which owner Craig Nicholls pours us each pint. Bruce and I often toss around the idea of opening our own brewpub, and Craig is Exhibit A in the argument for doing so. You can see he is having a great time serving beer he's created, in an environment he's created. He's happy you enjoy it, too. Even if your glass is stuck to the still-wet bar.
Roots Organic Brewing
1520 S.E. 7th
Portland, Oregon
(503) 235-7668