Whoops! Let a few weeks slip by there without a post. Here's what we intended to do, in short form. Big post coming later tonight or perhaps tomorrow, plus a Thanksgiving post next week you won't want to miss – a cooking spectacle on the order of Hamdog, but with MORE cooking time and a lot LESS fat.
Bruce was right about Oaks Bottom
Andrew, Kari, Bruce, Eryn, Becca, Nicole, Jen, Sarah and I made a trip to Oaks Bottom a couple of weeks ago with the aim of giving Bruce's exceptionally glowing review a more balanced spin. (Un)fortunately, we had to concur, as the food, brews and drinks met and exceeded expectations.
Oaks Bottom has taken the brewpub mold and really advanced it, with unusual and highly original takes on some classics. Case in point, the Meadmosa, made with orange juice and mead from Redstone Meadery. Served cold, there was enough OJ to make it a respectable mimosa, but the mead was totally discernible as a flavor unto itself, and the two combined to make a great drink.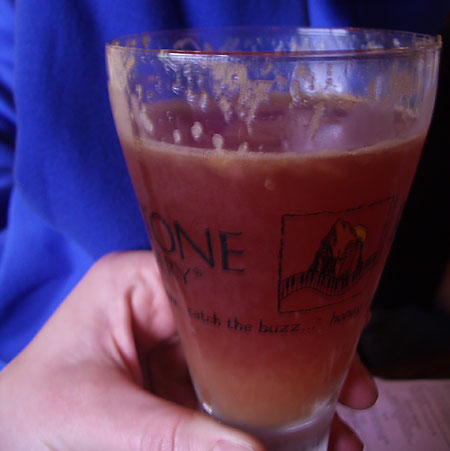 Equally original, but less universally-palatable was their "Hoptini," a vodka martini made with hop-infused vodka. When I sampled it, the vodka had been infusing for nearly a month, and I was warned that the bitter hop flavors were coming forward more after that duration. As a hophead, bitterness doesn't bother me, but others were not as into the drink. I'm not sure I'd order another one, but as a tribute to this versatile vine, it worked somehow. Try one for yourself – they had 2 varieties when I was there (Willamette- and Fuggles-infused).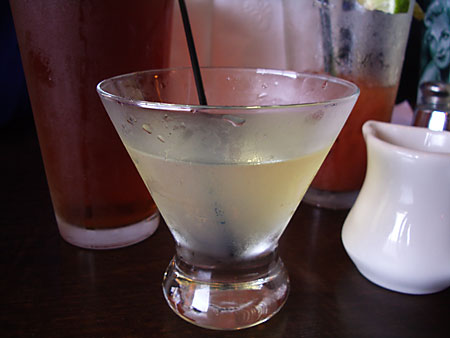 Bruce touted Totchos in his post, and I can only say he was 110% right about their being entirely delicious. Take your best version of Nachos, complete with cheese, sour cream, jalapenos, black olives and salsa on a bed of tortilla chips. Now substitue delicious tater tots. Not the greasy, soggy frozen kind found elsewhere in town, but the ones made with real potatoes, crispy and golden brown. Definitely a repeatable experience.
Finally, in apparent pandering to my own personal tastes, they had a Virginia-style smoked pulled pork sandwich on, served with deliciously crispy fries and a honey mustard dipping sauce. I am a fan of BBQ, a connosieur, even. And I can honestly say this pulled pork sandwich is in my top 10 ever, without qualification. The honey mustard was a little too mustardy in my opinion, but the sandwich didn't need it, so flavorful was the meat. I typically add coleslaw to my pork sandwiches, but again – it was unneccessary. Absolutely recommended.
As for the beer? Wreck the Halls was on tap, Total Domination from Ninkasi (not that great) plus the full complement of New Old Lompoc beers (sadly missing was D Note, which I haven't been able to taste yet). Wreck the Halls is a perennial favorite of mine, and I think this year's version is among the best. By now, it's on tap all over town, but when we went to Oaks, it was the first time I'd seen it locally.
Beerfest: The Movie
Several of us finally made it to Beerfest, the newest film from the Broken Lizard crew (the geniuses who brought us Super Troopers and Club Dread) last Sunday, at McMenamins' Mission theater. I was hoping to be able to tell you to go see it this weekend, dear reader, but I am afraid this gem has moved on. This movie must be seen, and it must be seen with beer handy. Plenty of beer. Buckets and buckets of beer. It starts a little slow, but that's just your sobriety talking. After your first beer or three, everything gets much funnier. I will not spoil it (boobs) for you with (beer) details, because you WILL see this (drinking games) movie. Not because I told you it was the greatest thing since (quarters) bottled beer, but because this is a movie about (boobs) beer, and those just don't come around very (lager) often. I will however, take this opportunity to publicly shame Andrew for drinking Pinot Noir during a movie about beer.
Beerfest: The Beerfest
Mark your calendars for Dec 1, 2 and 3 for this year's Holiday Ale Fest in Pioneer Square. I've been every year for the last four years, and it is a treat not to be missed. Tell the wife you're going Xmas shopping downtown and stop at Rite-Aid for some mouthwash (to cover you tracks, of course). Looks like most of the standbys will be there, plus four new beers from New Old Lompoc … I first tried mead at this event a few years ago, and the good folks from Redstone will be tasting a new Vanilla mead, plus a Cinnamon mead. You heard it here first: Cinnamon is the new Nutmeg.
Beerfest: The Sooner Beerfest
The 2nd Annual Oregon Cask Beer Festival runs this weekend (today!) at the Rose and Raindrop. They're closing the doors at the end of the year, so this might be a good farewell to this legendary Portland establishment (and they make a mighty fine Fish and Chips, too).