There was a time in the not too distant past when Dave was ordering begging me to contribute something the The Champagne of Blogs and now I'm starting to wonder if he's regretting that decision.
Like the neighbor down the street with the 73 Nova on blocks, I seem to be doing a good job trashing up the place. Dave has insightful photo essays on the Iowa State Fair and he and Thom (Welcome Thom!) did the enormously popular Metolius Brew entry. As for me, well, I'm responsible for two beer bong entries, a gratuitous boob shot from Octoberfest and a Homer Simpson picture. So, in honor of my online white trashy-ness, I present Edward 40 Hands.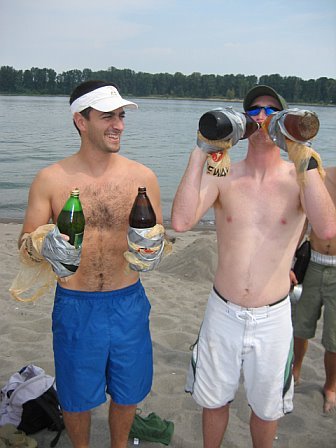 According to the Wikipedia entry, Edward 40 Hands is a binge drinking game in which a player duct tapes a 40 oz. bottle of alcohol (usually malt liquor, e.g., Colt 45) to each of his or her hands and is not allowed to take them off until he drinks them. Players also are not allowed to do anything with their hands until they finish, so without being too crude, I hope you've got a big bladder.
Girls can play too!

OK, back to Dave talking about mouthfeel at Tugboat Brewing.