As of today, I am now the proud owner of a HopSaver 3000, aka the FoodSaver 1085 Vacuum Food Sealer. I bought one on eBay last week to contain the enormous bounty of homegrown hops I am enjoying, both from my own vines, as well as Tyler and Nicole's (thanks!). This evening, I sealed 13.75 oz of hops! That's nearly a pound of hops! I have got some brewing to do …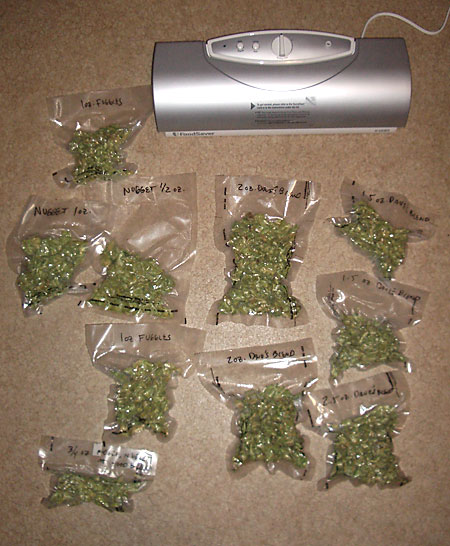 Pictured:
1.5 oz Nugget
2 oz Fuggles
.75 oz Fuggles/Nugget and Mt. Hood blend (aka HoodFugNut)
9.5 oz Dave's Special Blend (Cascade and Mt. Hood)
I still have quite a few hops to pick on the pergola, plus 2 grocery bags' worth still drying in the attic!
In other news, pitched the yeast tonight on the Mouthful of Metolius IPA I brewed with Thom this weekend (stay tuned for photos of this unique brewing experience), and added Sparkaloid to the mead that won't clear.
Picked up the fixings today for a traditional English-style brown ale, with which I am sure to put a dent in the Fuggles supply. Accepting name ideas … now!