When I was a kid, the Iowa State Fair was a BIG deal. When Sarah and I went home this August, we arrived just in time to partake in this annual Iowa tradition, and it was bigger than ever, and not just because we went on the last weekend. We started things off in the produce building, which houses things like the biggest watermelon, the biggest tomato, the biggest potato, etc. Big is what matters, and it is on display everywhere at the fair. Including the portions at the Iowa Dairymen's Association Ice Cream booth, where Sarah sampled a "small" strawberry ice cream for three dollars.
The Dairymen are most renowned for another attraction, however – the world-famous Butter Cow, sculpted since 1959 by Iowan Norma "Duffy" Lyon. Each year, Duffy re-creates the fair icon, re-using the butter from year to year. The line is several hundred people long, as seeing the cow each year is a rite of passage no parent could afford to skip. Children everywhere are thankful they stopped sculpting the macabre but tasty "Lard Pig" in the 1950s. This is not a joke.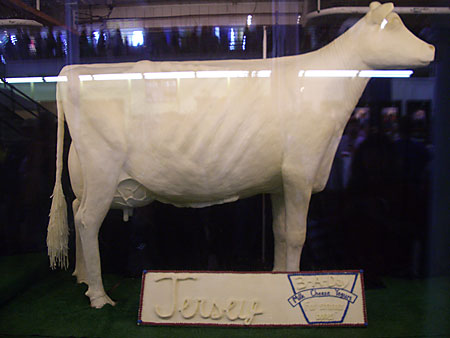 In recent years, she has created additional sculptures to keep interest up, sculpting such illustrious subjects as Da Vinci's Last Supper, Elvis, John Wayne, and this year, a life-sized Superman, more powerful than a massive coronary.
Our dairy appetites satiated, we made our way to one of my personal favorite food vendors, the Iowa Pork Producers Council. You may remember them as the creators of that well-known and convenient delicacy, the Pork Chop on a Stick. Finally, the smoky deliciousness of pork with all the convenience of a popsickle.
Having eaten a recognizable bit of pork flesh, my sense of adventure was heightened, and I ventured onward in search of that mysterious icon of fair fare, the Corn Dog. With origins shrouded in myth and coating breadlike, this culinary delight did not disappoint. The moist, cornbread-like crust concealed a juicy hot dog within, and I reached a higher plain of consciousness. Or perhaps it was just a higher blood pressure.
The main course finished, it was time for dessert, and there is no dessert more Iowa than the Dutch Letter, a pastry that hails from Pella, Iowa, home of the annual tulip festival, as well as a large Dutch population. Apparently, Pella's particular dialect of Dutch needs only one letter (S), as the traditional Dutch Letter takes the form of only the 19th letter of the English alphabet. At the Iowa State Fair, a Stick is added, spawning the new and improved "Dutch Letter on a Stick." Stupendous.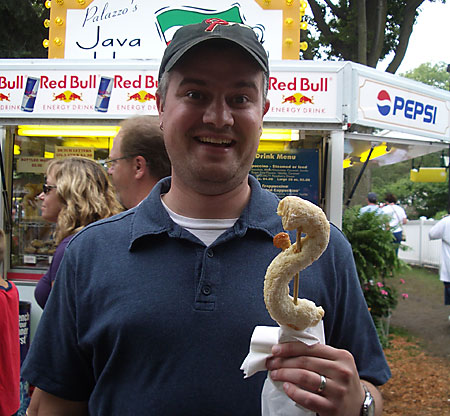 Better get something healthy to wash all that crap down. Whew! A little fruit juice, refreshingly cut with a cup and a half of sugar.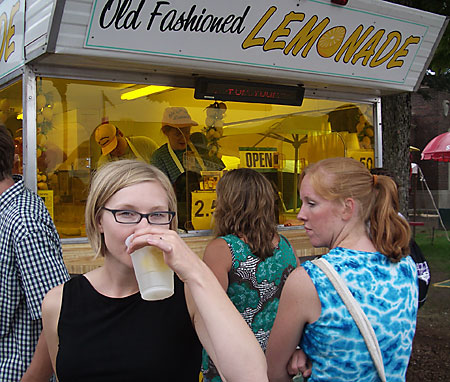 My arteries choking with fat, I had to pass up this delectable, Deep-Fried Macaroni on … you guessed it … a stick. Sensing a pattern here? This stand also offered deep-fried Oreo cookies and Twinkies. As for the signage, only Comic Sans would work here, a bit of neccessary whimsy to disguise the plaque-producing evil lurking beneath the festive green and purple bunting.
About this point, Gabe and Brandy joined us, and Gabe dove right in with some deep-fried cheese curds (not pictured). Only in Iowa would Ragu pizza sauce be a condiment. And only at the State Fair would a pump top be added to the Catholic-family-sized container.
Bellies full, it was time for another State Fair tradition: ogling the animals (and their Wrangler-wearing owners). Most dramatic is the Big Bull, which, as you might suspect, is the biggest bull in Iowa as of August 10th, 2006.
After that, it was on to the Big Boar, aka "The Big Pig," this year topping the scales at a whopping 1800 lbs. That's a lot of bacon.
While the Big Pig's size is incredible, no less incredible were the testicles on the second-biggest boar. I am not exagerrating when I say that EACH of the testicles was as large as my head. Sorry Angus, he's got the biggest balls of them all.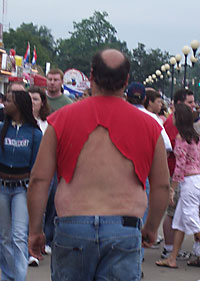 We'd had our fill of big pigs, gargantuan grapes, terrible tomatoes and arrested arteries. It was time to go. But … we had not seen … the BIGGEST REDNECK, who stomped by as we made our way towards the exit.
This manlike beast topped the scales at an estimated 350 lbs., and came prepared to do battle with the fair's unaware concessionaires.
Note the bellyless shirt, designed to give way to ever-expanding gut. Marvel at the advanced cooling system which allows energy-depleting heat to escape quickly. He has been bred for this day, and his owner is not going to let the "Biggest Redneck" award go to just anyone. As you can see, the breeder has branded his prize entry with tens of identifying tattoos to claim his prize. This, ladies and gentlemen, is what the Iowa State Fair is all about.