We set out for parts unknown – a little-known pub in Southwest Portland, where no man dares to go, least not without a good stiff drink and mapquest directions. Our destination – McMenamin's Hillsdale Brewery & Public House, home to the 13th Annual Hillsdale Brewfest. After what seemed like hours of aimless driving on crooked streets, a light in the sky told us we were near … the Bat Signal? No, dear reader, the Beer Beacon. Behold it's magnificence! 139.5 gallons of brilliance!
The reason for our journey? "The Battle of the Belts." It's no "Thrilla in Manilla," but there were 18 beers to be tasted from across the McEmpire, and far less danger of contracting malaria. Remember … no known pathogens can survive in beer.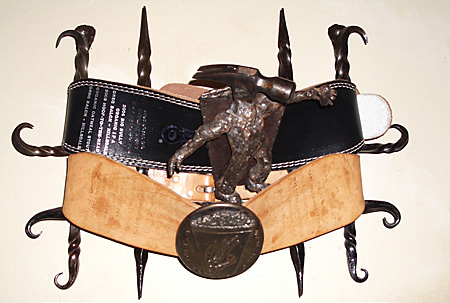 Patrons to the Hillsdale House were invited to sample each beer in two flights of nine beers each. Each flight was $6. Pours were approximately 2 oz. "Vallhalla" is Norsk for "Hillsdale." You be the judge.
A point (pint?) of criticism: beers were not well-arranged in the proper light-to-dark tasting order that is preferential. Each tray contained a good mix of very light and very dark beers. I assume someone thought that most patrons would only order one flight, and so tried to mix it up. That someone, it seems, had not met Bruce and Eryn.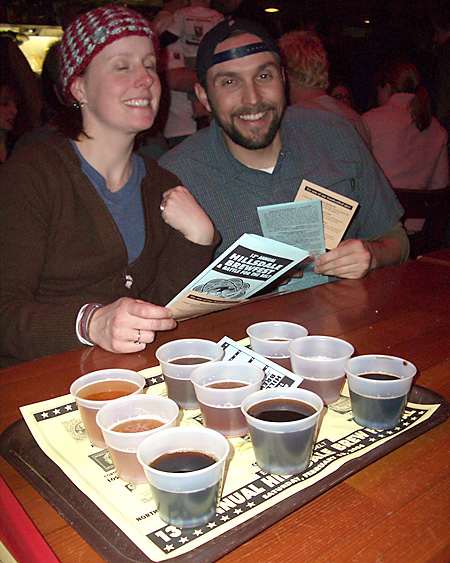 A tasting of scope so large required a group of trained drinkers: the much-feared Bruce and Eryn team, Kari and Andrew, Sarah, and myself: brewer, drinker, photographer, renaissance man. Pose!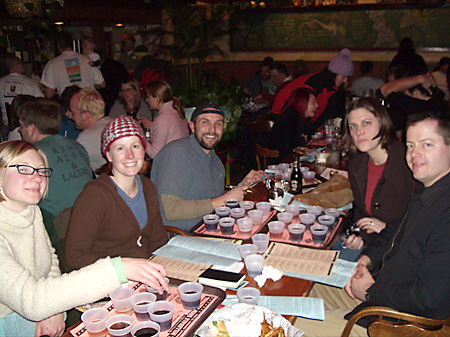 Isn't it great when every moment of your life is documented, even the moments you're documenting? I imagine Jane Goodall's life would have been much richer and certainly better-documented had the apes had digital cameras and high-speed internet.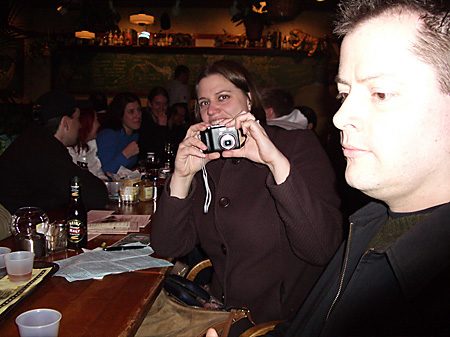 With thoughtful livers, we began, laying waste to 2 flights per couple. The tiny glasses began to add up as our commentary became more colorful.
"Terrible. Fishy."
"Belongs in a goblet."
"Remiscent of Rome on the morning March 13th, 1974 – airy, but with a still calm prescient of manifest destiny."
"Hoppy."
Note: napkin not to scale.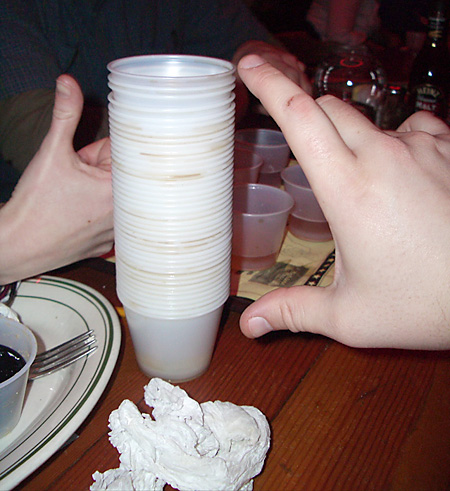 Taste buds deadened, we proceeded to vote using my ever-present Sharpie marker and the blood of our enemies. The group favorite was easily Cornelius Roadhouse's "Los Diablos del Paso" Imperial IPA, although it ranged from 1st to 3rd favorite depending on intellect. My personal favorite was "Monkey Wrench" from McMenamins Queen Anne, an American Amber that tended more toward the Imperial IPA style with just a bit more color. The Chinook hops were present at every turn … Hoptastic.
Special consideration went to Dad Watson's "Marchioness di Garibaldi," by far the most daring entry, and a flavor explosion in teh Gueze style. Cidery with tons of Black Cherry flavor, it was a taste explosion that easily could have topped ice cream. This is the one that belongs in a goblet.
When all was said and done, a fine evening spent at pretentious pursuits. After some hazy calculation, we bid the Hillsdale Brewfest Buh-bye and adjourned for trendy-first.
Epilogue: "White Lightning" took first place. Our group felt it a good contender and some of our party rated it in the top 3. Our favorite, "Los Diablos del Paso," took home 2nd place. Krakatoa, the one we labeled "fishy," "worst beer ever," and "this is the beer they serve in hell," took 3rd. Just shows to go ya.